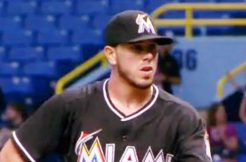 Updated – September 30, 12:56 p.m.: School officials in Hillsborough County, Florida announced that on Thursday, an anonymous person placed an envelope by the Alonso ticket booth. It had Fernandez's jersey.
**
In Tampa, Florida, someone allegedly stole a dead baseball player's high school jersey from a candlelight vigil.
Loved ones wanted to honor late Florida Marlins pitcher Jose Fernandez on Wednesday, and held an event at the Alonso High School baseball field, where he played as a teen. But the jersey went missing after the event, and the Hillsborough County Sheriff's Office are now investigating, ABC Action News reports.
Fernandez died in a boating accident on Sunday near Miami Beach, Florida. If you are not a baseball fan and don't know him, just understand that he was considered one of the best pitchers of all time. He made his mark despite dying at 24, and only playing four years in the majors. Plus, there's the charm factor. This is how he responded to a failed attempt at bat.
So, yeah, he had a reputation for being a tremendous sport and a great guy.
His jersey had been hanging in a dugout during the vigil. School officials, including Alonso's baseball coach, noticed its disappearance. There's no suspect description, though, and no surveillance footage for investigators to go on.
[h/t Deadspin]
[screengrab via Major League Baseball]
–
Follow Alberto Luperon on Twitter (@Alberto Luperon)
Have a tip we should know? [email protected]