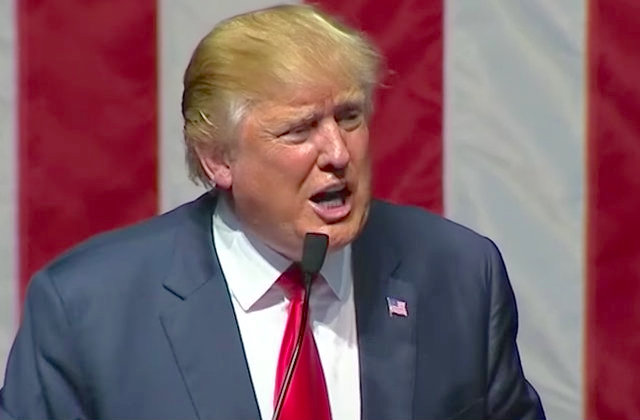 The Secret Service spent $35,185 on golf cart rentals to protect President Donald Trump. A purchase order obtained by CBS News said this was for a "POTUS visit" in Palm Beach County, Florida. Another PO includes $64,000 for "elevator services-Trump Tower" back in December 2016. A Secret Service official told the outlet that this was necessary elevator inspection, "one of many protective operational measures." However, The Trump Organization did not respond to request for comment. We've reached out to the White House for what they have to say.
The president's golfing habit has been a constant source of ammo for critics, especially since he long criticized Barack Obama for doing the same.
@BarackObama played golf yesterday. Now he heads to a 10 day vacation in Martha's Vineyard. Nice work ethic.

— Donald J. Trump (@realDonaldTrump) August 15, 2011
Obama's expensive vacations were definitely a thing when he was president. Trump has continued this tradition. He has played golf at least 18 times since his inauguration, according to one NBC reporter's count on Saturday.
President Trump is again at Trump International Golf Club in FL, per pool. It is his 18th golf course trip since taking office 12 weeks ago.

— Bradd Jaffy (@BraddJaffy) April 15, 2017
Obama only made it to a golf course in his fourth month in office, while George W. Bush held out until the middle of his fifth month.
Trump had promised on the campaign trial that he'd be too busy to golf as POTUS.
Nowadays, he usually likes to play at his Mar-a-Lago resort in Palm Beach, Florida, which he has visited quite often since assuming the presidency. How much each visit costs remains in dispute. An oft-cited October 2016 report from the Government Accountability Office estimated that a presidential trip to Palm Beach would cost about $3 million dollars, but that's based on an Obama visit. Plus, an AP Fact-Check said this report included travel between Washington D.C. and an economics speech in Chicago. With that in mind, they pointed out an estimate from conservative watchdog Judicial Watch. It suggested that each Trump visit to Mar-a-Lago costs about $1 million.
[Screengrab via CNN]
Have a tip we should know? [email protected]