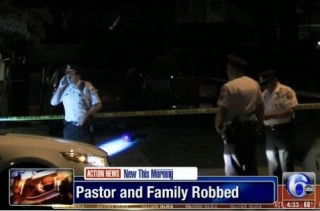 A pastor and his family were walking down a street in Philadelphia late Thursday night, when an armed robber allegedly stopped them, demanding money. The assailant demanded money from Pastor Robert Cook, and then struck him with the butt of a rifle, while his wife and 12-year-old son looked on. What the assailant didn't realize was that Cook's wife had a license to carry a firearm, and she knew how to use it.
While Pastor Cook struggled with the would-be robber, his wife took out her weapon and fired a shot into the man's leg. "I said, shoot him, shoot him," Pastor Cook told WPVI. "And she shot him."
The man ran off and tried to escape by jumping onto a moving SUV, but he was found near a hospital after police sent out a description of the suspect. Officers apprehended him, and the Cooks identified him.
Pastor Cook suffered a bruise on the head, but his family was not harmed. The attacker was treated at the hospital for the leg injury. Police are reportedly investigating the situation, but believe the shooting was justified.
[Screengrab via WPVI]
Have a tip we should know? [email protected]