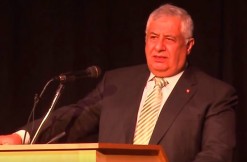 Billionaire Gilbert Chagoury, a Clinton Foundation donor, is suing the government over allegations that he helped fund terrorists. The lawsuit, filed Thursday in a D.C. federal court, said the State Department denied him a visa due to what he called "false information."
This complaint takes aim at seven agencies: the FBI, Department of Justice, the National Counter Terrorism Center, the CIA, the Department of Homeland Security, U.S. Customs and Border Protection, and the Department of State. He says one of these plaintiffs leaked info about the 2015 visa denial to Los Angeles Times reporter Joe Tanfani.
The LA Times article states that interagency memos show "[t]he U.S. put Chagoury in its database used to screen travelers for possible links to terrorism" based on allegations he was "facilitating fundraising for Hezbollah," further evidencing Joe Tanfani was provided misinformation concerning Gilbert Chagoury that is stored in government databases.
The lawsuit says the governments' actions violates federal laws like the Privacy Act and the Judicial Redress Act as well as his Constitutional right to due process. He says this has hurt his ability to do business because banks are refusing to work with him and his representatives.
Now he wants damages, preliminary and permanent injunctions on information leaks regarding him, a government declaration that he isn't a suspected terrorist, the chance to clear his name, and attorneys' fees.
Chagoury is a Nigerian-born businessman who once worked as an Ambassador to the Vatican. As the lawsuit states, he has donated quite a bit to the Clinton Foundation.
We've reached out to the Department of Justice, and will update when we get a response.
Read the full lawsuit here:
Gilbert Chagoury Lawsuit by LawNewz on Scribd
[screengrab via Pierra Chelala]
–
Follow Alberto Luperon on Twitter (@Alberto Luperon)
Have a tip we should know? [email protected]