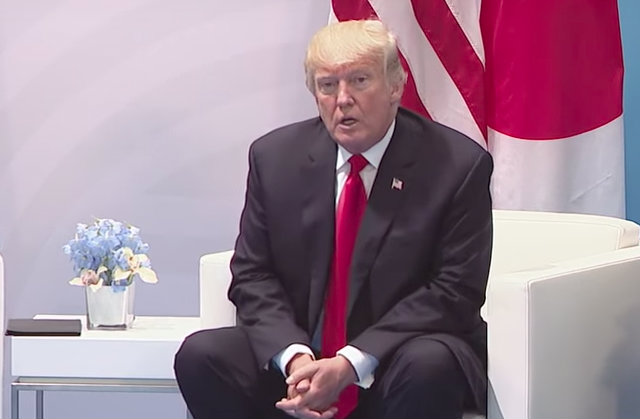 Do you think President Donald Trump will get impeached? These gamblers do. The Irish website Paddy Power says odds are for the bet, "Will Trump Be Impeached In His First Term?" are the highest it has ever been.
Spokesperson Lee Price told Fortune that odds shot up to 60 percent on Wednesday. Trump "had gone quiet over the last month, and we were starting to wonder if he might have ridden out the initial controversies – but he's back with a bang today," Lee said in an email.
The spokesman said hundreds of thousands of pounds were placed on impeachment. Odds of the process happening as soon as this year were at 33 percent.
This comes after the president's son, Donald Trump, Jr., shared emails on Tuesday showing he went to a June 2016 meeting with a Russian lawyer to get dirt on Democratic candidate Hillary Clinton. Publicist Rob Goldstone, who set up the meeting, told Junior that it was part of the Russian government's support of his father's candidacy.
A special counsel and several Congressional committees are investigating Moscow's interference in the 2016 election. And yeah, this includes looking into whether the Trump campaign worked with the Kremlin.
To be sure, not everybody thinks impeachment is given. On PredictIt, odds were down to 9 percent. For comparison, chances were 30 percent after Trump fired FBI Director James Comey in May.
Tina Fordham, Citi Group's Managing Director and Chief Global Political Analyst, said Tuesday that it's doubtful the GOP will turn on Trump, even though Junior's email revelations made impeachment more likely than ever.
"With this in mind, despite remarks from senior Congressional Republicans suggesting unease with the Trump Administration, it would be highly unusual and indeed likely politically costly to the party's electoral prospects to pursue impeachment proceedings against a president of their own party, particularly with Midterm elections a little over a year away," she argued.
Whether these odds hold out remains to be seen. Rep. Brad Sherman, a Democrat out of California, introduced an article of impeachment Wednesday. The accusation centers on how and why Trump fired Comey amidst the FBI's probe into his campaign's alleged collusion with Russia.
Still, it will be tough to force Trump out of office, legal arguments aside. The GOP control both chambers of Congress. While Dems are quicker to whip out the I-word, Republicans, whose voting base overlaps with Trump's, are comparatively muted on the subject. Under the Constitution, a majority of the House must choose to impeach the president, but even if that happens, the cards are stacked in his favor: At least two-thirds of the Senate must agree to kick him out of office.
[Screengrab via White House]
Have a tip we should know? [email protected]