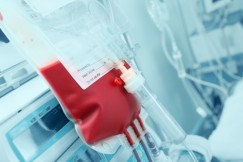 A would-be life-saving operation has left a Hawaii man in life-threatening peril. A Hawaii man, suing under the pseudonym John Doe, is alleging that he has tested positive for HIV AIDS after receiving a blood transfusion at a Hawaii hospital.
The lawsuit alleges that co-defendants Blood Bank of Hawaii and the American Red Cross, among others, provided blood transfusion products to the hospital where the unnamed man had surgery in 2011. According to the lawsuit, the defendants "failed, neglected, and/or refused to conduct a full and complete screening and testing of the blood that was transfused."
The 50-year-old man has decided to conceal his identity to avoid potential public ridicule. Plaintiffs may use the John Doe pseudonym in cases where there is a legitimate interest in protecting individual privacy rights.
The man's attorney, Peter Hsieh, described his client's life as "dismal," saying "[H]e hasn't been able to work. He's very sickly."
Blood transfusions are generally considered to be safe and low-risk.
The lawsuit, first filed in state court, has been removed to federal court at the request of the Red Cross. A hearing is scheduled for March 31.
[h/t The Garden Island]
Have a tip we should know? [email protected]