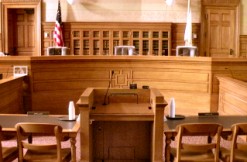 A man lost an appeal at the Massachusetts Appeals Court on Monday. Brendan T. Zammuto was convicted in a one-day trial in 2011 even though he didn't show up to court. See, the judge back then ordered the trial to just keep going without his participation.
Sounds like judicial misconduct, according to Zammuto's story. Where was he during the trial? He was at home, sleeping on the couch. (In his defense, there are a lot of people who'd prefer to do that than go to court.) And though he told the judge all about it the next day, he still had to go to jail.
As part of his appeal, Zammuto insisted he was denied the right to testify on his own behalf, and that the judge didn't check whether he missed court for a good cause, as required by law. That argument didn't work.
"The defendant has not claimed, much less shown, that a more vigorous effort to find him would have been successful, or that the reason for his absence from trial was anything but voluntary," Judge C. Jeffrey Kinder wrote in the decision. "The defendant's explanation the following day confirmed that he was at fault."
So five judges voted on this appeal, and all five were essentially like,no, you can't sleep through your own trial.
Though Kinder conceded the trial judge made the decision with "scant evidence," there was no proof it was wrong, and "no substantial risk of a miscarriage of justice."
After the 2011 trial, Zammuto spent a year in the Middlesex House of Correction for a criminal civil rights violation. According to court records, a car he was driving almost hit a man on a scooter. He allegedly escalated the situation by whipping out a baseball bat and a racial slur.
[h/t Boston Globe]
[image from inside the John Adams Courthouse, where the Massachusetts Appeals Court is held, via Mass.gov]
–
Follow Alberto Luperon on Twitter (@Alberto Luperon)
Have a tip we should know? [email protected]