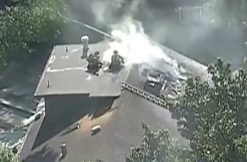 Dallas-area lawyer Ira Tobolowsky, 68, died on May 13 from a suspicious garage-fire. Medical examiners ruled it was a homicide in August, and according to a recently released affidavit, investigators seem to have some strong suspicions.
Officials for the Dallas Police Department suggest that someone drilled holes in his fence in order to spy on him, according to a search warrant affidavit obtained by The Dallas Morning News on Wednesday. So much remains unclear because the relevant documents were heavily redacted to protect the investigation.
Tobolowsky had died from burns, smoke inhalation, and blunt force trauma, causing investigators to look deeper.
What's certain is that police used the warrant to search several apartments, and seized some stuff: a propane tank, a drill, torch, plastic gas cans, cans of primer, clothes, vehicle headrests, drill bits, a wire brush, two saws, and various tools. Their idea is that some of this stuff could've been used to drill holes in Tobolowsky's fence. They were also looking for such items as combustible liquids and anything that might contain evidence of threats.
No suspects have been publicly named.
[screengrab of the house fire via Fox 4]
–
Follow Alberto on Twitter (@Alberto Luperon)
Have a tip we should know? [email protected]