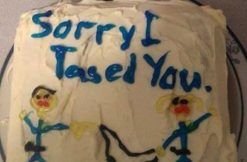 Florida woman Stephanie Byron claims Escambia County Sheriff's Deputy Michael Wohlers made her a cake to make amends. "Sorry I tased you," the frosting read. But the story behind the photo makes things even weirder.
She filed a lawsuit in May with the U.S. District Count for the Northern District of Florida. As you may have gathered, Byron says Wohlers tased her in June 12, 2015 when he was visiting her job at an apartment complex.
The deputy is accused of misusing his authority and bullying Byron "about her personal life." The lawsuit didn't specify their exact relationship, or why he was there. In any case, things escalated. He allegedly stole her sweet tea, and she tried to take it back. That's when he is accused of tasering her.
According to the amended complaint filed in July, the incident left Byron "bleeding and in pain," and Wohler just "forcefully removed the Taser prods from her."
The defendant allegedly lied about the incident, telling the sheriff's office it was an "accidental discharge" into his pillow at home. She says he later made her the cake (or at least sent her a picture of the cake), but clearly this, uh, failed to smooth things over.
"Ms. Byron was permanently scarred and injured by Wohlers' actions, and she continues to have problems to this day," the lawsuit says, claiming her rights were violated under the Fourth and 14th Amendments. Now she seeks damages, and attorney's fees. Sheriff David Morgan is also a defendant, being sued in his official capacity. We've reached out to him for comment, and will update when we hear back.
Attorneys for Wohler filed a response in August, saying their client didn't break the law. They went point by point through Byron's complaint, and denied all but the most basic details of her account. The only thing they agree on is that he actually visited her at her job on June 12, 2015.
But here's the wrinkle in the story. A picture of the cake was included as evidence in the original complaint. It's been making its way through media coverage of this story because well, it's a compelling image.
Then on Thursday, a BuzzFeed news director pointed out that it was posted on social media in 2014—over a year before the alleged tasering:
The photo of that "sorry i tased you" cake was uploaded to the internet a full year before the alleged incident https://t.co/zm8o9p6G4U

— Jon Passantino (@passantino) September 30, 2016
Which is true. So what's the deal with the picture? Byron's attorney Alistair McKenzie told the following to The Pensacola News Journal on Friday: They only got the photo from Wohler. He allegedly sent the pic to Byron via text message, asking her if she wanted the cake.
I can read your mind. You're wondering if this new statement contradicts the lawsuit. Here's the cake-related portion of the filing:
30. But apparently, Wohlers had a guilty conscience about his attack on Ms. Byron, so he baked her a cake. A picture of that cake is attached as Exhibit A.

31. The cake Wohlers baked provides his version of the encounter and clearly shows Wohlers firing the Taser at Ms. Byron. It also reads "Sorry I Tased You."
There are two possible explanations for the picture. 1) The plaintiff's story is not entirely accurate, and they took the picture from social media. Or 2) The plaintiff is being honest, and the deputy really sent her the pic via text. That would mean it was the deputy who "borrowed" the picture, and passed it off as a real cake.
We reached out to McKenzie for clarification. He said that his client knew Wohler from before the incident. Also, he sent the following statement. You'll already know a lot of the details, but what's interesting is that he spells out the nature of the photograph: Wohler allegedly sent her the photo.
Shortly after the incident, my client received a text message from then deputy Wohlers stating he had baked her a cake and providing her with a picture of the supposed cake he wanted to give to her. My client was never in physical possession of the cake and did not take the photograph. My client at all times believed this picture and cake to be real and this information was reported to law enforcement by her shortly after the incident.

Because this litigation is ongoing, no further comments can be made about this matter. For any further information, you will have to refer to the publicly available documents in this case.
You can read the amended complaint below, and the defense's response under that.
Stephanie Byron Lawsuit Against Michael Wohler by LawNewz on Scribd
Michael Wohler Response to Stephanie Byron by LawNewz on Scribd
Update – September 30, 2016: Updated with a statement from McKenzie. With that in mind, we've reached out to Wohler's lawyers for clarification. Another detail worth mentioning: Wohler resigned last year while being investigated for the alleged tasering. He is no longer a deputy. On Monday, state officials put him on a year probation from serving in law enforcement.
[h/t NY Daily News]
[image via Imgur]
–
Follow Alberto Luperon on Twitter (@Alberto Luperon)
Have a tip we should know? [email protected]