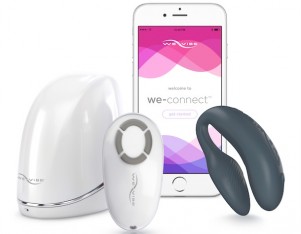 A class action lawsuit has been filed against Standard Innovation Corp., alleging the company sells products that "secretly collect and transmit highly sensitive personally identifiable information about the consumers using them."  The product at the center of the lawsuit is the company's "sensual lifestyle products" specifically, a high-end "smart" vibrator called the We-Vibe.  In a statement issued to LawNewz.com, Standard Innovation stressed there is "no allegation that any of our customers' data has been compromised."  The company's entire statement is provide below, in full.
According to new report by Gizmodo, hackers at the recent Def Con security conference  first revealed the problems with We-Vibe "smart" vibrator.  Specifically, the hackers reportedly showed how the "vibrators transmitted user data — including heat level and vibration intensity — to the company in real time."  In response to the Def Con findings, the company admitted to collecting "certain limited data" and promises to provide more transparency to users in the future.
Despite the company's promises to make changes going forward, a class action complaint was filed in federal court on the heels of the Def Con findings.
The lead plaintiff in the complaint, identified only by the initials N.P., alleges the device can only be operated once it is "paired" with a smart phone via the company's "We-Connect" program.  Once paired, the smart phone essentially becomes a remote control and allows users to adjust the settings for a customized experience.
However, the complaint alleges pairing the device with a cellphone does far more than simply provide users with remote control capabilities.  The complaint states:
"Unbeknownst to its customers, however, [Standard Innovation Corp.] designed We-Connect to (i) collect and record highly intimate and sensitive data regarding consumers' personal We-Vibe use, including the date and time of each use and the selected vibration settings, and (ii) transmit such usage data—along with the user's personal email address—to its servers in Canada."
In addition to seeking class certification, Plaintiff N.P. alleges Standard Innovation Corp.'s collection of its users most intimate details violates several federal and state statutes.  Plaintiff N.P. sued for consumer fraud, unjust enrichment, intrusion upon seclusion, and violation of the Federal Wiretap Act and the Illinois Eavesdropping Statute. Plaintiff N.P. also seeks an injunction to stop Standard Innovation from collecting additional details without explicit user consent.   Further, the complaint asks the court to order Standard Innovation Corp. to destroy all of the collected data still in its possession.
Plaintiff L.P. also seeks actual damages, punitive damages and attorneys fees.
George Washington University Law Professor John Banzhaf recently raised another potential issue with the We-Vibe device, namely that it may be vulnerable to hacks.
"Since the smart dildos are connected to the Internet, and can be controlled by someone even on another continent, hacking is an obvious possibility and potential danger," Banzhaf said.
After referencing another report on the We-Vibe hack at Def Con, Banzahf even suggested that a hacker could be guilty of rape after hacking into and taking over the controls of an individual's vibrator.
"Unauthorized entry into a vagina may be rape even if she cooperates, provided that her consent was obtained by fraud or trickery," Banzhaf explained.
Though, Prof. Banzhaf acknowledges one is more likely to face civil liability under these circumstance.  Nonetheless, the professor urged lawmakers to get out in front of this issue, soon.
"Rape, or even sexual assault, committed over the Internet by hackers miles away, or even in another country, is obviously a novel legal concept, and the law will have to adjust accordingly," Banzhaf warned.
Standard Innovation Corp. released the following statement to LawNewz:
At this time we have not been served and we cannot comment on rumor or speculation. Should we receive additional information, we will review it thoroughly and comment at the appropriate time.

There's been no allegation that any of our customers' data has been compromised. However, given the intimate nature of our products, the privacy and security of our customers' data is of utmost importance to our company. Accordingly, we take concerns about customer privacy and our data practices seriously.

Over the course of the last few weeks, we have taken steps to further enhance the data security and privacy measures for our product offering. As part of this effort, we have engaged external security and privacy experts to conduct a thorough review of our data practices with a view of further strengthening data protection and privacy for our customers. We are also committed to better communicating our data practices.

We are updating the We-Connect app later this month, and the update will include new in-app communication regarding our privacy and data practices and a new feature for consumers to control how their data may be used.

Please refer to the We-Vibe blog for additional details: CLICK HERE
Full Complaint HERE:
We-Vibe Class Action Complaint
[image courtesy of Standard Innovation]
Have a tip we should know? [email protected]