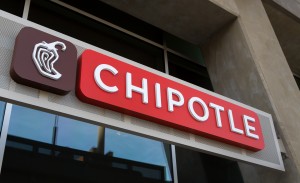 Things keep getting worse for the Mexican Grill with a cult-like following. Chipotle is now the named respondent in yet another legal action. The class-action lawsuit, filed in federal court on Tuesday, accuses Chipotle of trying to cover up a norovirus outbreak that sickened 234 people who ate at the fast-food chain.
The lawsuit, among other claims, alleges that Chipotle orchestrated the cover up in an attempt to protect its stock price. It further alleges that even after two customers had complained of norovirus symptoms, the Simi Valley, California location remained open instead of immediately alerting authorities.
According to the lawsuit, when faced with the reality of the norovirus spreading, "Chipotle chose instead to try and conceal all evidence of the outbreak by disposing of all food items, bleaching all cooking and food handling surfaces and replacing its sick employees with replacement employees from other restaurants before notifying county health officials of the outbreak."
The Ventura County Environmental Health Division corroborated this claim to a degree, telling authorities it "didn't have the opportunity to sample food or do some of the things we normally do to investigate a foodborne illness outbreak."
Not surprisingly, Chipotle refused to comment. The chain's communicators director, Chris Arnold,  informed NBC via email, "As a matter of policy, we do not discuss details surrounding pending legal actions."
The Colorado-based chain announced plans to close all locations nationwide for a three hour span on Feb. 8 to educate employees on food safety. The brief closure will be accompanied by a new marketing campaign sure to focus on repairing the damage done to the beloved company's reputation.
[h/t NBC New York]
Have a tip we should know? [email protected]