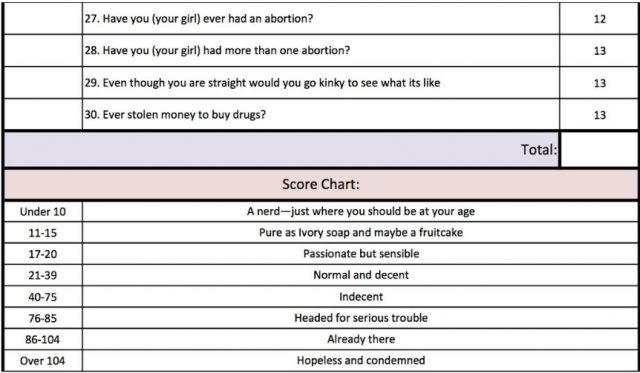 A high school teacher in Utah has been placed on paid leave after administering a quiz asking students about their sexual history, preferences, pliability and drug use.
The Buzzfeed-esque survey then ranked students on a set of metrics even more controversial than the questions.
Those at the bottom rung were labelled nerds–apparently the ideal. Those immediately above the nerd section were determined to be, "Pure as Ivory soap and maybe a fruitcake." The mid-tier offers fierce competition between "Normal and decent" and "Indecent." While those at the opposite end of the spectrum were deemed, "Hopeless and condemned."
That quiz, entitled "Know Thyself," was given to juniors in a college-level course, Adult Roles and Financial Literacy. Students who took the quiz did so for credit in the class.
Questions included the classic financial literacy barometer, "Ever stolen money to buy drugs?" and the sure-fire adult-role gauging, "Have you ever had sex without using a contraceptive?" For good measure, the quiz also asked, "Even though you are straight, would you go kinky to see what it's like?"
Other questions inquired as to students' use of marijuana, the club drug ecstasy, and whether students (or their girlfriends) had ever had an abortion or been kissed while lying down.
Points were awarded for "Yes" answers to the questions.
But apparently the quiz was not part of the official curriculum. And apparently illegal. Asking such questions contravenes the policies of the Utah State Board of Education–specifically rules which prohibit inquiring into students' sexual behavior, sexual orientation and any alleged illegal behavior.
Weber School District spokesman Lane Findlay, said: "We want to make sure it's not ever given to students in the future. Our apologies go out to the students and their families."
Officials have not released the name of the teacher, citing an ongoing investigation. LawNewz reached out to the high school's administration for more information, but they declined to comment.
In a follow-up phone call, Findlay noted, "We have not identified the teacher. That's standard procedure for us given that there is an active investigation."
If you'd like to grade–and know–yourself (thyself?), the full quiz is available here.
[image via screengrab]
Follow Colin Kalmbacher on Twitter: @colinkalmbacher
Have a tip we should know? [email protected]