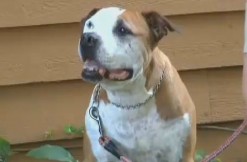 The dog didn't have a name until late July. He was just some stray, a pitbull wandering Baldwin, Georgia.
Then on July 22, a man allegedly attacked a woman. Their names haven't been released. WATE described the incident as a "domestic dispute," but whatever it was, the stray got involved.
"The dog then lunged toward the male, and the male came out with a knife and stabbed the dog with a knife," Baldwin Police Department officer Timothy Clay told the outlet.
"Stabbed the dog with a knife" is an understatement. He got stuck five times, sustained almost fatal wounds. Two cops responded to the scene. Clay, one of those officers, said they just had to help him.
"I don't think we could have let that dog suffer and die," he said. "We felt like we needed to get that dog some help after what it had been through."
They took him to a vet, where he almost died during surgery. However, he survived.
"For those two officers to go to the extent they did to save him is very heroic and very awesome," Carla Welch told WATE. She also just so happens to be the founder of Fighting for the Bullys, a pit bull rescue operation running out of Knoxville, Tennessee. It's not breaking news to figure out what she did after learning of the dog's story on Facebook.
She paid for the surgery, took the stray into her care, and tried to find him a new home. He also got a name in the meantime: Hero.
On Thursday, Welch announced that Hero is getting adopted.
"I'm really excited to give someone who's never had a home, a home," his new human Sarah Simpson told WATE. "And I say 'someone' because dogs to me are more than just dogs. They're people. They're your family."
Who's a good boy?
–
Follow Alberto Luperon on Twitter (@Alberto Luperon)
Have a tip we should know? [email protected]