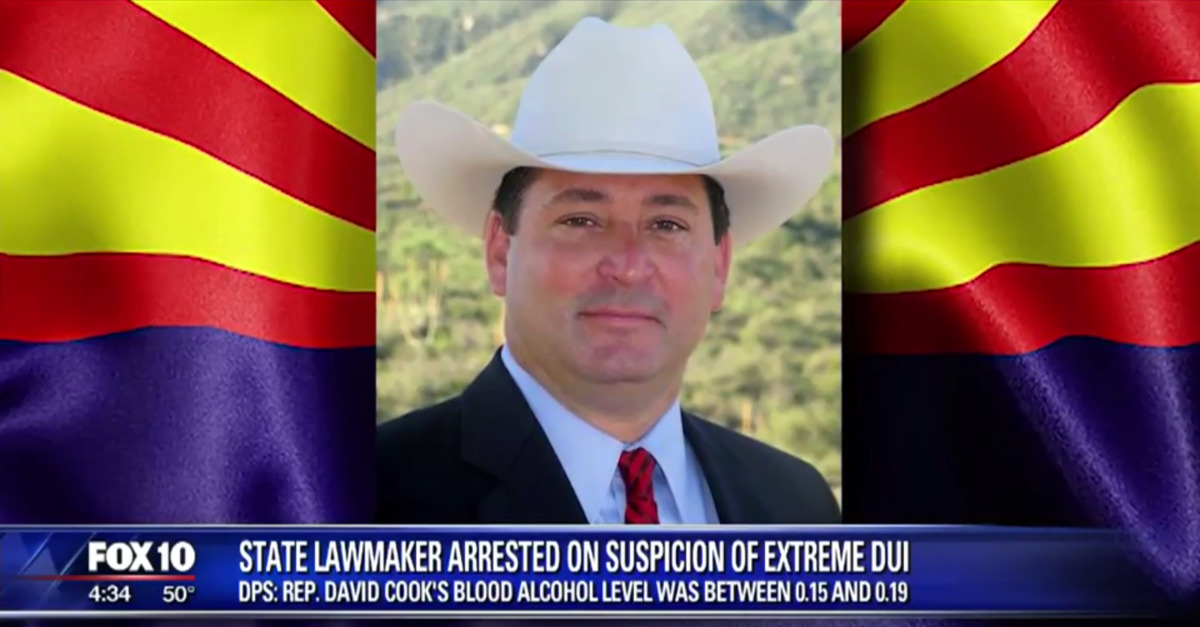 A Republican legislator recently charged with "Extreme DUI" appeared to threaten the officer who brought him in.
According to the local Fox affiliate, Arizona State Representative David Lee Cook was arrested last Wednesday after a Department of Public Safety (DPS) trooper noticed a pickup truck swerving in and out of its lane. The 50-year-old's truck allegedly smelled like alcohol and the trooper described Cook's eyes as being watery and bloodshot.
The officer then requested Cook's driver's license, registration and proof of insurance. Instead, Cook allegedly supplied a House of Representatives identification card in lieu of his driver's license and then refused to exit the car, according to documents obtained by the outlet.
The state representative allegedly had some words for the trooper.
"Do you know what you're doing son? You're making a mistake," Cook reportedly said.
Eventually Cook did exit his car, according to the police report. After that, he was asked to perform field sobriety tests–which he appears not to have mastered. A breathalyzer test determined his blood-alcohol content (BAC) to be somewhere within the range of 0.152 and 0.158; the legal limit is 0.08 in the Grand Canyon State. An "Extreme DUI" is anywhere between .15 and .199 BAC. A higher-penalty "Super Extreme DUI" charge kicks in for any driver with over .2 BAC in Arizona.
The GOP lawmaker was arrested at 12:20 a.m. last Thursday. As he was being led into a DPS station house, he allegedly told the trooper who arrested him, "I'm fine, don't worry. You'll get yours."
Cook, who was cited for Extreme DUI and later released, changed his tone a bit in a Facebook post later that day.
"The DPS officers who handled the matter behaved professionally and did their job well," he wrote. "I didn't request or receive any sort of special treatment as a result of holding office, as it should be. I'll be facing a judge and very real consequences which I'll keep you all updated on as they occur."
Cook's colleagues are also planning on addressing the incident.
In a statement, State House Speaker-elect Rusty Bowers criticized Cook over the arrest:
The Arizona Department of Public Safety informed me today that Representative David Cook was arrested last night for driving under the influence. I'm disappointed and saddened by Representative Cook for failing to meet the standard expected of all Arizonans, much less an elected official. When I've had an opportunity to learn all the facts and speak with Representative Cook and my colleagues about it, I will announce action the House will take against Representative Cook.
[Image via Fox 10 Arizona screengrab]
Have a tip we should know? [email protected]