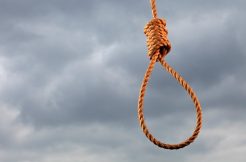 A black sophomore in Wiggins, Mississippi was in a Stone High School locker room when four white students put a noose on him and "yanked backward" on his neck, according to the president of the local NAACP.
"No child should be walking down the hall or in a locker room and be accosted with a noose around their neck," Derrick Johnson told reporters in a Monday press conference. He was accompanied by the students' parents, Hollis and Stacy Payton. "This is 2016, not 1916. This is America. This is a place where children should go to school and feel safe in their environment."
No one involved in the alleged October 13 incident has been publicly named since they're all reportedly under 17-years-old. Ayana Kinnel, a spokeswoman for the Mississippi NAACP told Fox News that according to the family, the sophomore, who plays football, returned to practice after the incident.
In any case, Johnson is demanding a federal hate crime investigation over all this. The Stone County Sheriff's Department is investigating.
[image via Michael Courtney and Shutterstock]
–
Follow Alberto on Twitter (@Alberto Luperon)
Have a tip we should know? [email protected]me.com