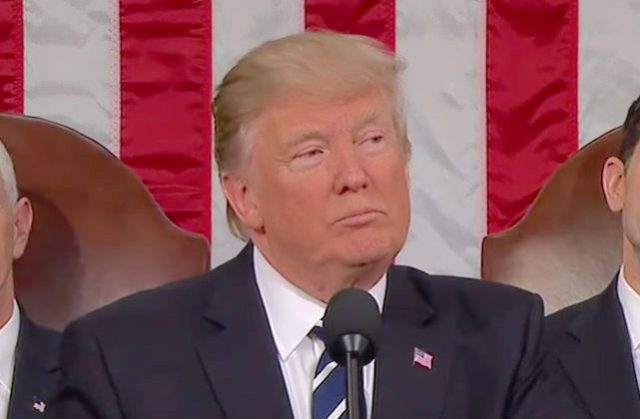 Rep. Jackie Speier (D-California) hasn't been shy about claiming that President Donald Trump is not mentally fit for office. For months, the Democrat has been calling for the 25th Amendment to be invoked to remove Trump from the presidency. Now, she says she's actually speaking with mental health professionals about it.
"It's one thing from my non-professional, non-clinical standpoint [to] believe that someone does not have the capacity to do the job,"Speier told BuzzFeed News, "it's another thing to talk to experts and [those] who can deal with mental psychosis on a daily basis, so I wanted to hear from them."
Speier has reached out to psychologist John Gartner, who has drawn controversy of his own for his bold claims regarding Trump's mental state, despite never examining the man. Gartner is the founder of a group of professionals called Duty to Warn, who have spoken about Trump's fitness to carry out his job. Gartner has said that Trump is "deeply and dangerously psychologically disordered."
This seems to go against the American Psychiatrist Association's "Goldwater Rule," which says that professionals should not weigh in on public figures' mental states without having examined them personally. The rule isn't just about being responsible, it also aims to protect the integrity of the field. The American Psychoanalytic Association, on the other hand, told its 3,500 members over the summer that they can feel free to weigh in on Trump's mentality if they so choose.
Gartner also recently founded 25th Amendment PAC, an organization that aims to support politicians who would support removing Trump from office, and contributed to The Dangerous Case of Donald Trump, a best-selling book that includes the opinions of more than two dozen mental health professionals. One of them, Yale Psychiatry Professor Bandy Lee, claims that the book doesn't go against the Goldwater Rule, because "We do not diagnose him, we do not make claims that require a full interview."
Lee has since backed away from Gartner and his ilk, who seek a political outcome from diagnosing the president from afar. That hasn't stopped her from taking calls from members of Congress, though. Lee told BuzzFeed News that members of the House and Senate have reached out to her to discuss Trump.
Not surprisingly, discussions of the president's psyche have resulted in backlash from part of the mental health professional community.
Allen Frances, former chair of Duke University's psychiatry department, said, "The solution to Trump is not psychological name-calling, it's political action."
[Image via ABC screengrab]
Have a tip we should know? [email protected]