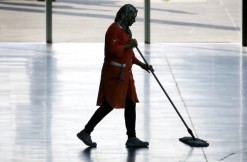 Tennessee cops admitted to using a stun gun on a cleaning lady they mistook for a burglar, and they insist they're in the right.
It happened Jan. 11 around 8:20 p.m. Officer Brian Desmond saw an open door at a Tennessee Middle School.  With that, he and Sgt. Jamie Heath wanted to make sure there were no burglars looting the school, according to a report by the Times Free Press.
And what do you know, they apparently saw cleaning supplies, and wondered if staff was also there that night, according to the affidavit.
They eventually ran into a woman in a room with two entrances.
"She obviously noticed us, as she looked directly as us, appearing to be nervous and somewhat reserved," wrote Heath in his report. Oh, and the cops' weapons were reportedly drawn, but not at the woman.
They apparently tried to communicate, but she answered every question with "No," according to the report. The women did not seem to understand English, and she kept saying "No," even when they tried asking for her license in Spanish.
Let's just cut to it: She started slowly walking away, then started going faster, until she was downright sprinting. Heath told her to stop or he's going to use a stun gun on her, according to the report.
She didn't stop. His Taser knocked the woman to the ground, and she was arrested.
Professor Jon Shane, at the John Jay College of Criminal Justice, defended the cops to the Times Free Press. "It sounds like a clear case of reasonable force," he said. "The officers must be right about the law when using force, but they can be mistaken about the facts. In this instance, the law would allow the officers to use a Taser to subdue a fleeing burglar, but the fact is that the woman was not a burglar."
But colleague Maria Haberfield disagreed. Cops shouldn't have been there in the first place, she said.
"This was just an open door," she said. "There wasn't a report of burglary: There was a report of an open door. The officers didn't witness any extreme acts of vandalism or see that the computers were ripped out. There has to be some correlation between what they witnessed and the response."
Assistant Chief James Hardeman said the Collegedale Police Department hasn't received any formal complaints about the incident, according to the Times Free Press.
The woman was charged with evading arrest, and was soon released on a $750. She faces a March 2 court date in Collegedale Municipal Court. But thing is, authorities aren't quite sure who she is, as she gave different names to officers. The cops simply booked her as Juana Raymundo, 36-years-old.
[h/t Times Free Press]
[image via Shutterstock]
–
>> Follow Alberto Luperon on Twitter (@Alberto Luperon)
Have a tip we should know? [email protected]