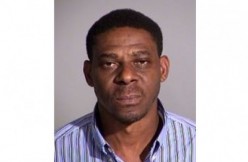 The following is a lesson in how not to steal a home.
Gregory D. Harris faces charges after allegedly stealing an entire house in a scam to impress his lady, CBS 4 Indy reports.
Harris, 48, allegedly told this woman he was a millionaire. After they started dating in January, he went all out with the alleged ruse, getting her a BMW SUV. Pretty sweet.
The girlfriend later found a nice looking house online. According to court documents obtained by CBS 4 Indy, Harris told her he'd brought it as a gift for her. In fact, Harris reportedly made an actual offer to a realtor in early April, but his bid was rejected.
But then April 7 came around. A realtor dropped by the house to show a prospective buyer, and found that not only was the "For Sale" sign gone, but so was the lockbox.
April 10: Another realtor reportedly dropped by to discover someone had moved the furniture, and replaced the doorknobs.
April 11: A representative for CastleRock REO, which was handling the sale of the house, communicated with Harris via text message, according to court documents. Harris allegedly admitted to changing the locks and removing the sign. He allegedly insisted he owned the house after making the offer, and sent the representative documents apparently supporting his claim. No dice. The representative told him to go away. In response, Harris reportedly took a picture of the house with a BMW SUV in the drive way.
April 15: Police arrived at the house, according to court documents. They reportedly found Harris and his girlfriend on the premises. He allegedly admitted to removing the locks, and the "For Sale" sign, while she said Harris had told her he was a millionaire, and had gotten her a BMW SUV.
Not-surprising plot twist: Police said the SUV had been reported stolen.
The woman had already moved all her things into the house.
Harris faces charges of burglary and theft. He remains in custody and without bond at Marion County Jail, according to WCNC.
[mugshot via Indianapolis Metropolitan Police Department]
–
Follow Alberto Luperon on Twitter (@Alberto Luperon)
Have a tip we should know? [email protected]