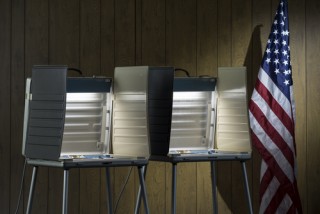 After more than 126,000 New York Democrats found out that their names had been mysteriously deleted from voter rolls, top Board of Elections officials are paying the price. The New York Post reported that Brooklyn Deputy Chief Clerk Betty Ann Canizio-Aqiil, a Democrat herself, has been suspended without pay during an investigation into just how so many voters' registrations vanished. The Chief Clerk, Diane Haslett-Rudiano, a Republican, was suspended last month. According to the New York Daily News, the purge was the result of steps being skipped during a routine deletion of voters who had moved or died.
When questions arose over why the Democratic Canizio-Aqiil wasn't punished until well after the Republican Haslett-Rudiano, BOE Executive Director Michael Ryan said, "We want to make sure that when we take full and final action, it's done based on all the facts and done appropriately."
New York State Attorney General Eric Schneiderman began the investigation after a state hotline received more than 700 complaints from voters, according to the Associated Press. New York City Comptroller Scott Stringer said he will audit the BOE as well.
Have a tip we should know? [email protected]