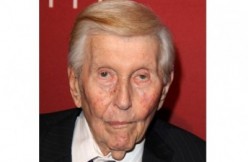 In a video deposition shown in a Los Angeles court on Friday, media mogul Sumner Redstone called his ex-girlfriend Manuela Herzer a "f—ing b—h" after claiming she stole his money, according to a report by The New York Post.
Redstone, the 92-year-old controlling shareholder of Viacom and CBS, faces a civil trial that will determine if he's mentally competent. Herzer filed a lawsuit after he fired her in October (she was his healthcare agent). She also claimed he was being manipulated by others, including his daughter Shari Redstone.
Sumner Redstone had trouble answering questions for the deposition, according to The Post. For example, he didn't answer a question about his birth name, and had trouble saying some words. He has a speech impediment.
"Sumner, can you—can you show me the word [you're trying to say]?" an interpreter said, according to the transcript obtained by The Post. "Can you spell it out? First letter?"
In the deposition, Sumner said he wanted his daughter, Shari Redstone, to make healthcare decisions for him.
"I want Manuela out of my life," he said.
After viewing the deposition in court, Judge David J. Cowan didn't seem convinced that Redstone was mentally incompetent, and addressed his concerns to Herzer's attorney, Pierce O'Donnell.
"What evidence you have to rebut the testimony that I just heard?" Cowan said, according to The Los Angeles Times. "I had said that Mr. Redstone would be the best witness, and he has given some strong testimony. I don't know why that testimony should not be respected."
This legal struggle has already had huge ramifications for the Redstone media empire. He stepped down as executive chairman of Viacom and CBS in February after Herzer's lawsuit frightened investors.
[image via Helga Esteb / Shutterstock.com]
–
Follow Alberto Luperon on Twitter (@Alberto Luperon)
Have a tip we should know? [email protected]