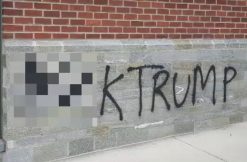 Assistant City Solicitor Duncan Lloyd has worked for Philadelphia since 2011, but that might change after he was linked to "F—k Trump" graffiti. Local cops posted surveillance footage of the incident, which happened just after midnight early Friday morning.
Video shows a couple of suspects walking down the sidewalk. There's no report on how they know each other, and they're certainly mismatched. One wore a jacket with the hoodie, while the second man is seen on video with a blazer, scarf, and a glass of wine. We kid you not.
Police say the man in the hoodie sprayed painted "F—k Trump" on the side of a Fresh Market grocery store while the man with the wine glass "appears to take pictures or video." Not fans of president-elect Donald Trump?
Welp, the man with the wine glass has reportedly been identified. It's Lloyd, according to First Deputy City Solicitor Craig Straw.
"We do not condone this type of behavior from our employees," he told The Philadelphia Inquirer. "To my knowledge, Mr. Lloyd has already contacted the Philadelphia police and is cooperating with them. We will decide on a course of action once we obtain more information about the investigation."
Joe DeFelice, the Chairman of the Philadelphia Republican Party, wants Lloyd fired.
"For somebody with extensive legal training to feel entitled to vandalize a newly opened super-market strikes us at the Philadelphia Republican Party as an astonishing feat of idiocy," he wrote in Wednesday statement. "Did the extra glass of Shiraz give him some sort of delusional confidence that there are no cameras on Germantown Ave?"
We've reached out to Lloyd and the Philadelphia Police Department for comment. No charges have been announced.
[Screengrab via Philadelphia Police Department]
Have a tip we should know? [email protected]