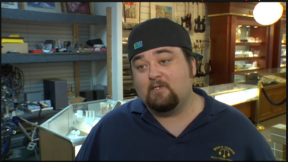 Austin "Chumlee" Russell, a cast member on the History Channel's hit reality show Pawn Stars, was arrested in Las Vegas on Wednesday after getting a little too chummy with drugs and weapons. The 33-year-old fan favorite is sitting in jail after police raided his home in connection with the investigation of a sexual assault case.
Chumlee was arrested by the Las Vegas Metro Police Department after they showed up at his home with a search warrant for the sexual assault case, but found guns, methamphetamine, and other substances instead.
Officer Larry Hadfield of the Las Vegas Metropolitan Police Department told HollywoodLife.com,
During the course of a sexual assault investigation and search warrant search regarding Austin Lee Russell, detectives found illegal substances like methamphetamines, marijuana and several guns which he's prohibited from owning, which resulted in his arrest.
Russell was not arrest on any charges related to the sexual assault case, which is still ongoing.
Chumlee rose to fame with the popularity of the show, which debuted in 2009 as a reality narrative of life at The World Famous Gold & Silver Pawn Shop in Las Vegas. Considering his immense popularity, it's safe to say loyal Pawn Stars viewers are pouring one out for their boy tonight.
Check out this mash-up of some of Chumlee's funniest moments on Pawn Stars below.
[h/t HollywoodLife]
[Screengrab via HistoryChannel]
Have a tip we should know? [email protected]