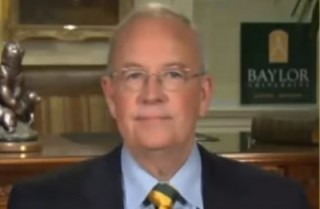 Chalk it up to karma. Kenneth Starr, the infamously puritanical prosecutor of Bill Clinton, has now resigned his position as Chancellor at Baylor University as a direct result of a report concluding Starr did a lousy job of handling rape cases on campus. He will reportedly still stay on staff to teach.
I'll admit that I really didn't see this one coming. Starr's righteous indignation was practically cartoonish when he led the charge against Bill Clinton; the last thing I'd have expected was to see Starr's dazzling star burn out because he had been complacent. Especially when the matter at hand was alleged improper sexual conduct.
Since Starr's prosecution of then-president Bill Clinton in 1998, Starr's name has been synonymous with "overzealous" and "unrelenting." But apparently, when the subject is alleged collegiate rape victims (as opposed to national political figures), Starr's pursuit of justice is lackluster at best.
The recent independent audit was conducted by the law firm of Pepper Hamilton in response to multiple allegations of sexual assault on campus. It revealed that, "Baylor's efforts to implement Title IX were slow, ad hoc, and hindered by a lack of institutional support and engagement by senior leadership."  As the university's president since 2010, the buck should have stopped with Starr.  Given that campus sexual assault has been a primary concern for universities in the past decade, Starr's less-than-inspiring leadership is all the more disappointing.
The Pepper Hamilton report went on to call out specific examples of misconduct:
"University administrators that directly discouraged complainants from reporting or participating in student conduct processes, or that contributed to or accommodated a hostile environment. In one instance, those actions constituted retaliation against a complainant for reporting sexual assault."
Baylor's Board of Regents also fired Art Briles, the football coach, after declaring themselves "shocked" at the idea that rampant sexual violence plagued Baylor in general, and the football team in particular. No one was shocked, however, by the reality that Starr's signature fervor is far less potent when it's not funded by a rapacious GOP out to bring down a president. There is one similarity between the 2016 Starr and his 90s counterpart, though: college girls suffer as a result of his bad judgment.
Have a tip we should know? [email protected]
Elura Nanos - Columnist & Trial Analyst, Law & Crime; CEO Lawyer Up