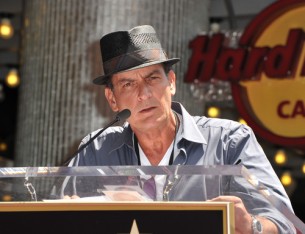 The celebrity tabloid publications RadarOnline.com and the National Enquirer refused to comply with court order to turn over audio tapes to Los Angeles authorities investigating threats Charlie Sheen allegedly made against his former girlfriend Scottine Ross.
According to Reuters, LAPD officers with the department's "threat management division" opened a criminal investigation after the tabloids published transcripts from audio tapes that allegedly captured Sheen threatening Ross during an argument when the two were dating.  Neither outlet has published the actual audio of the alleged incident.
The report says LAPD officers showed up at the New York headquarters of American Media Inc., the parent company of the two publications, with a search warrant to obtain audio tapes and other related materials, however, Dylan Howard, the editor and chief of the National Enquirer and the editorial director of RadarOnline, refused to comply with the demand.
"We do believe that a judge did issue this order against the law, and that is why we will not be complying with its order," Howard reportedly told Reuters in an interview.
So, what is the legal basis for Howard to refuse to comply with the order?
Under the Privacy Protection Act of 1980, journalists are generally protected from having to surrender to law enforcement any work product and documentary materials, including sources, before that material is disseminated to the public.  Furthermore, when a journalist is served with warrant, the PPA permits the submission of an affidavit to the court "setting for the basis for any contention that the materials sought are not subject to seizure."
However, there are exceptions to the PPA that might be applicable in this case, specifically if "there is reason to believe that the immediate seizure of such materials is necessary to prevent the death of, or serious bodily injury to, a human being."
The PPA was enacted in response to a 1978 Supreme Court case that ruled neither the First or Fourth Amendments prohibited the police from conducting a warranted searching a newsroom to look for unpublished photographs taken at a violent demonstration where several police officers were hurt.  In that case, police wanted to use the unpublished photos to identify and prosecute additional people involved in the demonstration.  The PPA was enacted to overrule the Supreme Court decision and provide journalists with necessary protection to report stories without fear of government interference.
[image via shutterstock]
Have a tip we should know? [email protected]