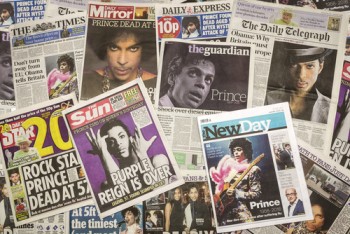 After Prince died unexpectedly last week, various reports indicate that the singer left behind an estate estimated to be worth somewhere between $150 million to upwards of $300 million.  On Tuesday, it was reported that Prince's sister, Tyka Nelson, filed documents in a Minnesota court indicating that Prince died without leaving a will.   In Minnesota, when an individual dies intestate (without a will), the decedent's assets pass by intestate succession to the decedent's heirs as prescribed in the Minnesota Probate Code. The process of determining Prince's rightful heirs and dividing up the assets is overseen by a probate court.
According to KARE11, Prince's sister jump started the process Tuesday by filing a petition for an emergency appointment of a "special administrator" in the Carver County, MN probate court.  Minnesota law allows for the emergency appointment of a "special administrator" (without notice) if the probate court determines it is necessary to preserve the estate and secure its proper administration.  Nelson nominated Bremer Bank, National Association (Prince's bank) to serve as the "special administrator."
In the petition, Nelson states:
"[A]n emergency exists to the extent that the appointment should be made without notice because immediate action and decisions need to be made to continue the ongoing management and supervision of Decedent's business interests; and because the names and addresses of all interested parties are currently unknown."
Nelson's petition also lists seven of Prince's siblings as potential heirs:
John Nelson, half brother

Norrine Nelson, half sister

Sharon Nelson, half sister

Alfred Jackson, half brother

Omar Baker, half brother

Lorna Nelson (predeceased), half sister

Tyka Nelson, sister
Minnesota law does not included predeceased siblings as heirs, so it is not clear why Lorna Nelson is listed as a potential heir.  If she had children, then they would be entitled to her share of the estate.  However, TMZ reports that she did not have any children. Prince's half-brother, Duane Nelson — who is also deceased — is not listed.
When the decedent is unmarried and has no children, as in Prince's case, Minnesota's intestate succession laws provide that the decedent's siblings shall inherent shares of the estate, equally.  Minnesota law makes no distinction between full siblings and half-siblings, so it is likely that Prince's estate and assets will distributed amongst all six of Prince's living siblings, equally.
According to USA Today, several probate lawyers and Prince's former manager, Owen Husney, expressed surprise that Prince did not have an estate plan, such as a will or trust, in place before his death.    Husney reportedly said he found it hard to believe that Prince would've overlooked something so important, especially with the team of attorneys and financial advisors that supposedly worked with the pop star over his career.  However, as things currently stand, it appears Prince's estate is headed for protracted and very public battle in probate court.
[image via shutterstock]
Have a tip we should know? [email protected]