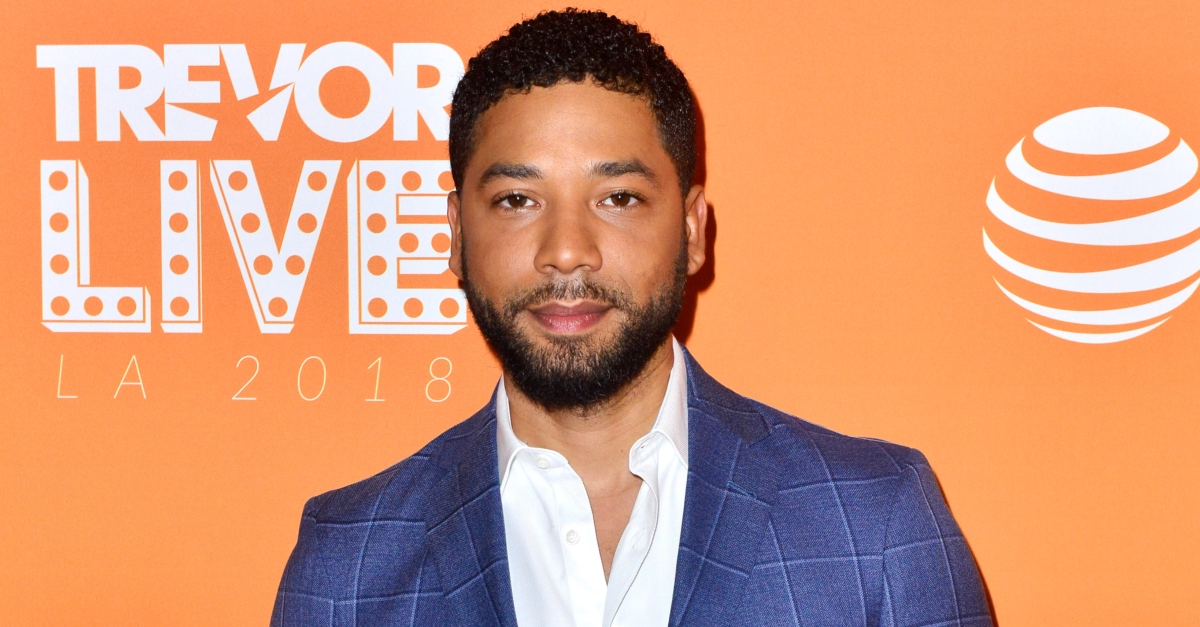 The Jussie Smollett case is apparently heading to a grand jury next week, according to law enforcement sources in a TMZ report. Two brothers arrested and released in the case are somewhere in the Loop neighborhood of Chicago. Cops are looking after them to stop them from communicating with the alleged victim. Police were reportedly suspicious of Smollett, who claimed to have been attacked by two men on January 29. At least one of them allegedly had a mask, and they said, "This is MAGA county." They allegedly yelled homophobic and racist slurs at him. (The actor is black and gay. The brothers are reportedly of Nigerian decent, and black.) Smollett said that he was able to fight back, but they put a rope and what he believed bleach on him.
We'll see where this goes. Law&Crime columnist Elura Nanos previously looked at the possible punishment if Smollett gave a false police report. He might face up to three years in prison if charged and convicted.
Cops announced early in the investigation that two persons of interest were caught on surveillance footage in the area of the attack. These men were reportedly arrested, but released, and not charged.
An ABC Chicago report cited sources saying that police were investigating if Smollett, an actor, staged the attack with the two men because his character was being written off of "Empire."
The Chicago Police Department's top spokesman Anthony Guglielmi said that Superintendent Eddie Johnson contacted the outlet to say "we have no evidence to support their reporting and their supposed CPD sources are uninformed and inaccurate."
20th Century Fox denied that Smollett was being written off the show.
The TMZ story said sources claimed there were red-flags from the beginning. Smollett, for example, knew the location of a camera that would've caught the alleged attack had it not been pointed in another direction. Investigators believed this was strange.
"Due to new evidence as a result of today's interrogations, the individuals questioned by police in the Empire case have now been released without charging and detectives have additional investigative work to complete," Guglielmi said Friday evening, according to The Advocate. The outlet reported that at least one of the brothers worked on the show Empire with Smollett.
"We can confirm that the information received from the individuals questioned by police earlier in the Empire case has in fact shifted the trajectory of the investigation," Guglielmi told The Associated Press in a Saturday report. "We've reached out to the Empire cast member's attorney to request a follow-up interview."
It was unclear what he meant by "shifted." A CNN report that same day cited law enforcement sources claiming that they think Smollett staged the attack with the brothers.
Smollett has since lawyered up amid reports that police are scrutinizing him. His attorneys said Saturday that he has been "further victimized" by the allegation he made up the story.
Guglielmi said Sunday that cops weren't able to discuss the truth behind reports.
While we are not in a position to confirm, deny or comment on the validity of what's been unofficially released, there are some developments in this investigation and detectives have some follow-ups to complete which include speaking to the individual who reported the incident. pic.twitter.com/b9GgXbSUt9

— Anthony Guglielmi (@AJGuglielmi) February 17, 2019
[Image via Jerod Harris/Getty Images for The Trevor Project]
Have a tip we should know? [email protected]