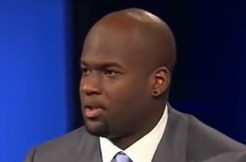 Retired NFL quarterback Vince Young was arrested for a DWI Sunday, according to Texas police.
Young, 32, had allegedly been driving erratically: swerving, and even taking 10 seconds to go at a green light, the arresting office said. After the traffic stop, the ex-QB allegedly smelled like booze, had next-to-no balance, and wasn't, uh, crisp mentally, slurring his words. But he was polite. That last detail has to count for something.
Hell, he even laughed during the traffic stop. For some reason. The affidavit reported that the officer thought this was "unusual."
Young was a big deal in college, leading the Texas Longhorns to the 2006 Rose Bowl trophy, and building a 30-2 record as a starter. This output earned him a runner-up stop for the Heisman Trophy as a junior. Nice. He took that momentum into the NFL, where he was the third overall pick in the 2006 draft with the Tennessee Titans. And guess who became Offensive Rookie of the Year.
But his career petered out. He lost more and more games. The Titans cut him, and he bounced around teams until retiring in 2014.
Now Young has to juke a misdemeanor DWI charge. He was sent to Travis County Jail after midnight Monday morning, with bail set at $2,000.
[h/t KXAN]
–
>> Follow Alberto Luperon on Twitter (@Alberto Luperon)
Have a tip we should know? [email protected]