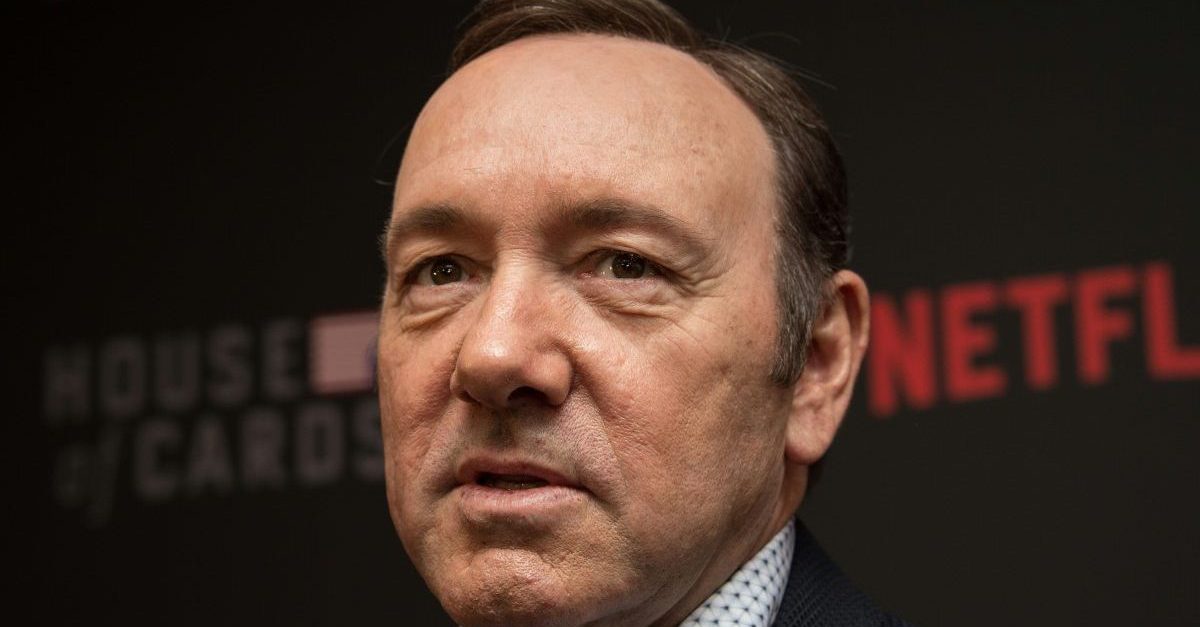 Lawyers for actor Kevin Spacey went to a court hearing in Nantucket last week where authorities had to show probable cause in order to charge him for allegedly sexually assaulting an 18-year-old at a club in 2016. Newly revealed details of the hearing provide some insight into how Spacey's defense team will try to combat the allegations.
According to an audio recording of the hearing obtained by the Boston Globe, Spacey's attorneys did not deny that the actor groped the young man at the Club Car bar. What they did dispute was that it was an assault. According to the defense, the groping was consensual. They pointed to an investigators' report where the alleged victim said the groping went on for approximately three minutes without the him moving away or telling Spacey to stop. Not only that, they pointed out that the alleged victim told investigators this.
"That's an incredibly long time to have a strange man's hands in your pants, correct?" Spacey's lawyer Alan Jackson asked State Police Trooper Gerald F. Donovan at the hearing.
"I would agree with that. Yes," Donovan said.
The defense painted a picture not just of this being a consensual incident, but one that the alleged victim initiated. They said the then-18-year-old lied about his age saying he was 23, that he approached Spacey, exchanged phone numbers with Spacey, that they smoked a cigarette together, and that the young man also drank between eight and ten alcoholic beverages in just over an hour.
Prosecutors, however, have additional details from the investigators' report that support the allegations.
The alleged victim reportedly told investigators that Spacey was the one who bought the drinks. He also reportedly said that the reason he didn't move away was because the bar was crowded and he couldn't move, but that he did try to shift his body away from Spacey and move the actor's hands away from him. According to the report, the alleged victim told investigators that "Spacey kept reaching down his pants."
Investigators also said that one witness saw the alleged victim looking "pale, blank, a bit frightened."
The evidence before the court was enough for the magistrate judge to determine there was probable cause to charge Spacey with one felony count of indecent assault and battery. His arraignment is scheduled for January 7.
[Image via NICHOLAS KAMM/AFP/Getty Images]
Have a tip we should know? t[email protected]