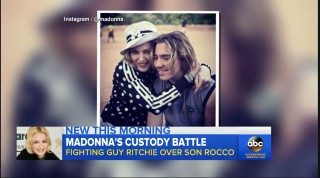 As the custody battle over Madonna's son heats up, the pop star is taking to Instagram to thank her fans for supporting her through this "challenging" time. While the court of public opinion may be swayed, the pop sensation must also bring her concerns before Judge Deborah Kaplan in a courtroom in New York City. And if recent reports are any indication, things could get pretty nasty between the Material Girl and ex-hubby Guy Ritchie, the English filmmaker.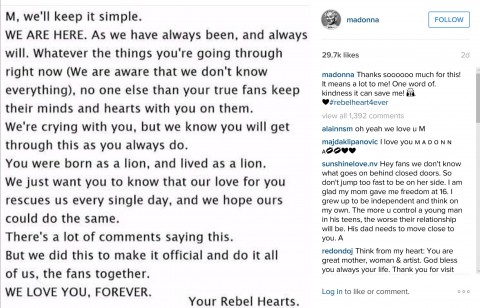 The couple is scheduled to appear at a custody hearing next week. This comes after a judge issued an order requiring their son, 15-year-old Rocco, to return to New York. The judge wanted the teen to remain in the U.S. while custody problems are resolved.
Rocco, apparently, decided to go live with his dad, Ritchie, while he was traveling with his mother on tour. British tabloids reported that Rocco blocked his mother from viewing his Instagram account, and seemed to prefer living with his father in the U.K. Rumors aside, this custody battle will likely bring both parties to a New York courtroom to face off.
"Both Madonna and Guy Ritchie are required by law to be there unless the judge previously excused their absence," Todd Spodek, a New York City family attorney, told LawNewz.com.
The hearing is likely to be more administrative than substantive, but the judge will likely want to know whether Rocco is in compliance with her order requiring him to come back to the U.S.
"There won't be a resolution of the case on Feb. 3– unless there is a decision agreed upon by both parties. If that doesn't happen, there would have be some sort of evidentiary hearing," Michael Stutman, a family attorney, told LawNewz.com. Ultimately a judge will have to determine what is in the best interest of the child.
There is a possibility that if the court order is violated (and Rocco is not returned) that Guy Ritchie could be found in contempt of court.
"A party is in contempt if they are violating an unambiguous court order of which they have notice of, " Stutman said. Rocco, who is a minor, will not be found in contempt. A judge will determine what efforts Ritchie made to get his son back to the United States: Did he buy a plane ticket for him? Did he bring him to the airport?
"If Mr. Ritchie was directed to have the child in the United States, he will need to demonstrate to the judge that he was trying to obey the court order, and his inability to do so was because of factors beyond his control," Stutman said.
There is every indication that things could get personal, very personal. Madonna reportedly kicked things off during her Saturday concert by starting 50 minutes late and calling her ex-husbands — Guy Ritchie and Sean Penn —  "a***holes." This is the second Madonna performance to start late in recent weeks.
Have a tip we should know? [email protected]
Rachel Stockman - President / On Air Host