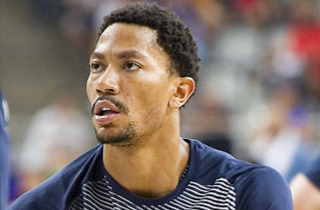 On Thursday, the first day of testimony in the rape civil lawsuit filed against professional basketball player Derrick Rose was high on theatrics, both in front of the jury and when they were removed from the courtroom. Because electronic devices are not allowed in the courtroom, information has been coming out in bursts, but from the accounts provided so far, the most eye-catching moment would be the attorney for Rose's co-defendants (originally misidentified as Rose's lawyer in tweets from Deadspin's Diana Moskovitz) complaining to the judge about his accuser's crying:
This has been an especially contentious case for the lawyers themselves, with Rose's counsel even accusing the lawyer for "Jane Doe" of "getting high" with her:
As LawNewz told you last week, the judge appeared to be getting fed up with the lawyers' sniping and what he perceived as a concerted effort from Rose's counsel to shame Jane Doe. Tensions were sure to get higher with Doe being the opening witness for her own case, which may have gotten off to a promising start when Rose wasn't in court at the beginning of the day as promised. Because this is a civil trial, he technically didn't do anything wrong by not being there, but showing up 40 minutes into his accuser's testimony and almost two hours later than promised is not a good look.
The big revelation of the day's testimony is that Doe said she believed she was drugged by Rose, "I just felt like I was less in control. I was more goofy, like…I couldn't control myself" she said on the stand.  When asked directly if she thought she was drugged, she answered "Yes. I never felt like that before. I never blacked out before." She also added the detail that she required the assistance of a cab driver to even get into bed.
The trial will resume on Tuesday.
[Photo: Shutterstock]
Have a tip we should know? [email protected]