Podcast: Play in new window | Download
Subscribe: RSS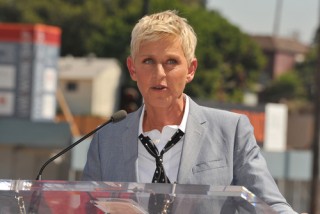 Comedy sure has its price. Ellen DeGeneres will probably end up shelling out thousands to a Georgia real estate agent for calling her "Titty Pierce" on national television.
During a segment of her daily talk show called, "What's Wrong with These Signs?" Ellen showed a photograph of a real estate sign advertising broker Titi Pierce, and pronouncing the name "titty" instead of the phonetic "tee-tee." Ellen made the "Titty" wisecrack right after showing a sign that read "Nipple Convalescent Home," and continued to joke, "Titty Pierce, sounds like she might have spent some time in that nipple home, I don't know."
It was all in good fun until Ms. Pierce's phone blew up with harassing calls and messages. And to make matters worse, she was on her way to a family funeral. Comedic timing really is everything.
On June 2, Ms. Pierce filed a lawsuit in Georgia Federal Court against Ellen, alleging Invasion of Privacy, Misappropriation of Likeness, Defamation, and Intentional Infliction of Emotional Distress.
At first blush, this smacks of an opportunistic plaintiff looking to make a few quick bucks off a rich celebrity who can afford a hefty settlement. But under California law (which would likely be the standard employed in this case), Ms. Pierce may well have at least one valid claim. If the case proceeded, the court would probably whittle down Pierce's complaint, leaving only one or two counts.
The defamation claim would likely be the first to go. After all, this woman's name actually is "Titi Pierce," and a mispronunciation isn't likely to constitute the kind of false statement required for defamation. The misappropriation claim is also pretty wobbly. Ms. Pierce is a realtor, and the picture used on the show was a public sign. Ellen simply drew attention to something that was already out there. And in doing so, Ellen specifically mentioned that Ms. Pierce is a real estate agent – which could certainly be considered some pretty high level PR. Sure, calling her "Titty" got some laughs, but it's doubtful that such a joke did anything to seriously malign Ms. Pierce's reputation. And let's face it. People mispronounce things all the time. I'm sure this woman is called everything from "Titty" to "ta-ta" at least once a week by telemarketers and baristas.   Granted, that's not quite the same thing as being called out on national TV, but it still may be enough to sink the misappropriation count.
The invasion of privacy claim is a bit stronger. Cases involving public ridicule are often actionable under privacy statutes. There's certainly a viable argument here that Ms. Pierce wouldn't reasonably have expected her image to be used for laughs on a national hit television program. And given that the Ellen producers could have blurred out Pierce's phone number, but chose to include it in the photo, a jury might be sympathetic to the plaintiff on this one.
Pierce's strongest claim is  for intentional infliction of emotional distress ("IIED"). Using a private person's identity as a national punchline could definitely be considered outrageous enough to meet the legal standard for IIED. Throw in the fact that Pierce was actually harassed while she was on her way to a funeral, and it's a bit of a perfect storm. The cherry on the tort sundae here is that even after Pierce complained, the Ellen show re-aired the episode with no changes.
The case is by no means a sure thing. But neither is it a completely frivolous lawsuit. My guess is we'll see a quick settlement in the mid-five figures and a public apology from Ellen.
Have a tip we should know? [email protected]
Elura Nanos - Columnist & Trial Analyst, Law & Crime; CEO Lawyer Up