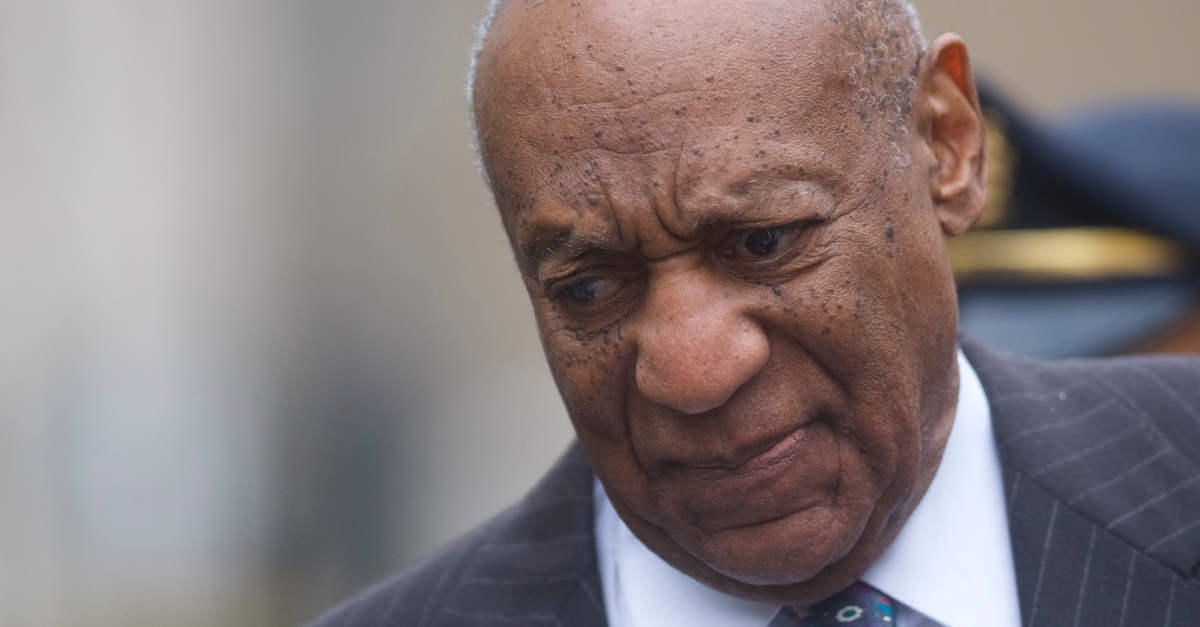 # 1 Judge Stephen O'Neill smacked down Bill Cosby's argument that Pennsylvania's Sexually Violent Predator statute is unconstitutional.
Monday's hearing examined two distinct legal issues: 1) whether Cosby should be designated a "sexually violent predator" ("SVP") – a designation which would require increased reporting requirements; and 2) what punishment Cosby should receive for the crime of felony indecent assault on Andrea Constand.
The Pennsylvania law in question has been revised numerous times to comport with various judicial pronouncements of unconstitutionality; Cosby's counsel made the argument that the statute, as it stands today, is unconstitutional generally and as it is being applied to Cosby.
Judge O'Neill refused to strike down the statute, stating "the role of the judiciary is not to question the judgment of the legislature," and explaining that "courts are obliged to exercise every reasonable attempt to vindicate the constitutionality of a statute." No one is going to accuse this jurist of being a judicial activist or legislating form the bench.
#2. The prosecution's first witness made waves with what should have been an easy answer.
The Commonwealth's first and only witness on the SVP issue was Dr. Kristin Dudley, a member of Pennsylvania's State Sexual Offender Assessment Board. Dr. Dudley was questioned on her expert credentials, and gave her opinion that Cosby should in fact be deemed an SVP. When prosecutors walked Dudley through her the steps she took in reaching that conclusion, Dudley said she considered accusations from the 46 women who came forward against Cosby. However, as the defense was quick to point out, the majority of those women did not testify at trial. In fact, Dudley's knowledge of those women and their accusations stemmed from her examination of an inadmissible evidentiary proffer made by the prosecution. Debate erupted over whether Dudley's reliance on those materials had been proper, even though they were not part of the court record.
Ultimately, the witness was allowed to continue her testimony over a standing objection from the defense after Dudley told the court she would be able to separate information about actual court witnesses from information stemming from women who never testified.
#3 The prosecution reminded everyone that there are lots of Cosby accusers, and they're all ready to tell their stories.
One argument raised by Cosby's defense counsel was that allowing the Sexual Offender Assessment Board to consider uncharged conduct in its recommendation violated Cosby's constitutional right to confront his accusers.
During oral argument, counsel for the Commonwealth quipped, "nothing is stopping the defendant from confronting the witnesses. If he wants to subpoena them, I think I know where he can find them."
#4 A really uncomfortable exchange went down between the prosecution's witness and Cosby's lawyer.
While cross-examining state witness Dr. Dudley, Cosby's defense counsel put forth a pretty bleak picture of the quality of life for both the elderly and the disabled. Dr. Dudley explained how, from her perspective, Cosby presents an ongoing threat to the public based on sexually-deviant behavior:
"Cosby has the opportunity to meet women. He is esteemed in the community. He is able to meet people and befriend them. It is during the course of a friendship that the paraphilia occurs."
Joseph Green, Cosby's lawyer then followed up with these questions:
"Do you expect that Mr.Cosby's unsighted condition is likely to change?"

"Do you acknowledge that he is terminally and irremediably blind?"

"How's he going to go meet these people?"
Dr. Dudley, though, wasn't willing to count out the elderly or the disabled. She let Green know that she wasn't buying his view on Cosby – or anyone else with those conditions – as feeble.
"People who have disabilities can meet people, People who are blind go to functions and can meet people. It doesn't render them unsocial."
Green ended his questioning with what should have been a high note for him, underscoring that his client 's socialization (and thus, his threat level) is dwindling with age:
"Is he more likely to meet people in the next 14 years than in the last 14 years?"
But Dr. Dudley was a step ahead of him, and asked:
"How do we know he hasn't already met his next victim?"
– an exchange which was met with audible gasps in the courtroom.
#5 The prosecution delivered a My-Cousin-Vinny moment that was truly beautiful.
During Dr. Dudley's tense exchange with defense counsel over whether Cosby's blindness renders him incapable of posing a threat to others, she momentarily dropped her eyeglasses but continued answering counsel's questions until she was offered a break to retrieve them. On re-direct, the prosecutor asked Dr. Dudley just one question: "You dropped your glasses—did it totally inhibit your ability to interact with Mr. Green as a human being?" Predictably, she answered, "no."
# 6 We learned that the prosecution and defense agreed to limit the possible range of Cosby's sentence.
It was widely reported that Cosby could face up to life in prison for the three counts of felony indecent assault for which he was convicted. The judge reported today that prosecutors and defense counsel reached an agreement to have those three counts merge into one. This means that the court will sentence Cosby on only one count of indecent assault, which carries a potential sentence of 22 to 36 months. Up to twelve months can be added or subtracted from that time frame based on aggravating or mitigating factors.
#7  A confident, but terse Andrea Constand testified.
Andrea Constand is no stranger to courtrooms. She appeared in court today dressed in a tan blazer and dark slacks, looking more at ease than ever. Smiling, Constand agreed to provide testimony to the court, but declined to read her victim impact statement aloud, saying only, "I have given you my victim impact statement, the jury heard me, Mr. Cosby heard me, and and all I'm asking for is justice as the court sees fit. Thank you."
#8 Constand's family members read heartbreaking victim impact statements.
Andrea's mother, father, and sister all testified, reading their victim impact statements in open court. Each family member described, from their own perspective, the loving and open person Andrea had been prior to the assault, and the dramatic changes they perceived in Andrea afterward. Collectively, this group provided a striking picture of a traumatized young woman who was raped and then dragged through a media storm afterward.
Their testimony focused not only on Cosby's abuse of power, but also on the secondary impact his assault had on their entire family. Gianna Constand emphatically testified: "The victims cannot be unraped. All we can do is hold the justice system available." She also talked of having been diagnosed with brain aneurisms and Parkinson's disease as a result of the stress of her daughter's ordeal; Andrew Constand detailed his need to take medication to cope with the anxiety it brought on. Through their statements, these witnesses filled in emotional details of the ongoing fallout this case brought upon their loving, but shattered family.
#9 Cosby's lawyer characterized Cosby as an old, sick, scrappy, integrator of the races.
In his sentencing argument, Mr. Green told the story of Bill Cosby's difficult childhood, his determination to get an education, his military service, and his views on race.
"[Cosby] was the first African-American comic who didn't emphasize or highlight the difference between white folks and black folks. He said 'I don't think you can bring the races together by joking about the differences between them.'"
He went on to insist that Cosby couldn't possibly be dangerous, because, "81 year- old blind men who are not self sufficient are not dangerous," and argue that Cosby would be powerless against those in prison who sought to extort him.
Later, the prosecution was quick to point out that not only is such a characterization of Cosby debatable, but that the corrections facilities across the state care for geriatric inmates every day with competence and professionalism.
#10 Cosby's counsel made kind of an icky argument about Constand's civil settlement with Cosby.
In his argument, Mr. Green referenced the $3.8 million settlement Cosby paid to Constand. Several times, Green said that Constand "asked for" the money, that it "wasn't forced on her," and that she "voluntarily accepted it." Putting aside the very obvious comparison about what was forced on Andrea Constand, Green's argument seemed to blur the lines between the civil and criminal justice systems. His argument that Constand's monetary compensation should be a mitigating factor to which the judge "should give substantial weight," is bound to raise some debate over sexual assault and the purpose of punishment.
#11 The prosecutor said "Weinstein" without saying "Weinstein."
In his argument, District Attorney Kevin Steele argued in favor of maximum confinement. In doing so, he urged the judge to consider the "community impact" of Cosby's crimes, and the way in which they were committed. Steele specifically referenced Cosby's status, and his hush-money payment, remarking that Cosby set up a framework in which "the only way for [Constand] to win is if [the authorities] got to her." Steele also addressed the lengthy passage of time since the assault head-on, saying that Cosby doesn't deserve a "get-out-of-jail-free card" simply because it's taken a long time to "catch up to what he's done."
This is an opinion piece. The views expressed in this article are those of just the author.
Elura Nanos - Columnist & Trial Analyst, Law & Crime; CEO Lawyer Up