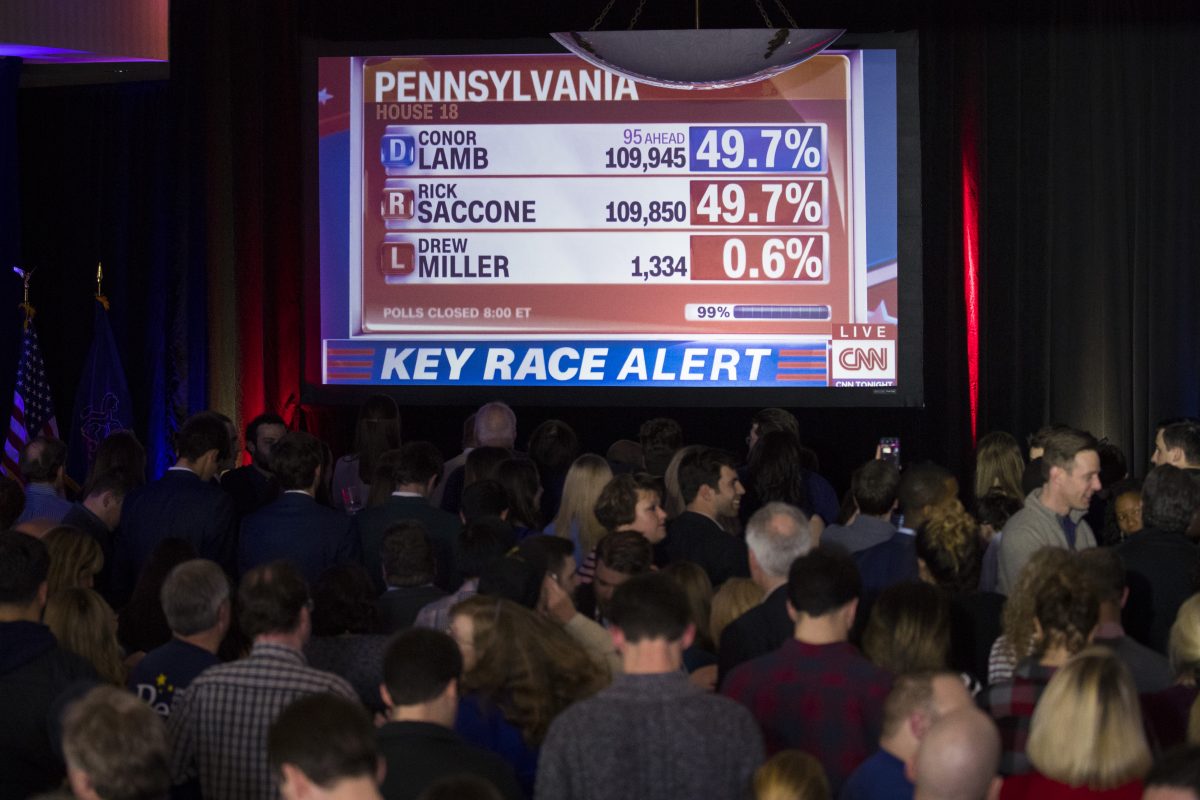 Republican officials in Pennsylvania allege multiple voting irregularities occurred during Tuesday's special election for the 18th congressional district. To that end, GOP leaders are seeking a court order to impound every single voting machine used during Tuesday's balloting.
Additionally, the Pennsylvania Republican Party has hired an independent firm to "look for voting irregularities" after the apparent upset, according to local news station WPXI 11.
For now, Tuesday's election appears to have been won by Democrat and veteran Conor Lamb–who currently holds a remarkably slim lead over Republican state Representative Rick Saccone.
Lamb's lead at present hovers somewhere in the area of 627 votes, according to the latest number crunching by The Philadelphia Inquirer. In all, over 200,000 votes were cast.
There are currently hundreds of absentee and provisional ballots, however, which could still hand the race to Saccone—whose loss would signal the end of the GOP's long-term hold on the seat.
According to The Inquirer, a Republican "familiar with the [Saccone] campaign" said the GOP would petition for all the voting machines used across four counties to be impounded in the anticipation of a recount.
Republicans are currently said to be investigating reports of various election day irregularities, including unspecified "problems" with voting machines, voters being given incorrect voting location sites, and perhaps most controversially, GOP-linked attorneys being prohibited from overseeing the counting of absentee ballots in relatively Democratic Allegheny County.
Allegheny County spokeswoman Amie Downs said she had already engaged in discussions with Republican lawyers about their inability to oversee the vote-counting there.
Under Pennsylvania's election code, election observers must produce a signed authorization affidavit from the chair of the county committee. Downs remarked, "They didn't produce that until the very end of the evening, when the ballots had already been scanned."
The Director of Elections in Allegheny County, Mark Wolosik, said he received a few phone calls late Tuesday morning from self-identified Republican lawyers requesting information about observing the vote tabulation but noted that this was a late-game request. He noted that usually, "people ask ahead of time."
Still, Wolosik and Downs say they cooperated to the best of their ability. Eventually, two Republican lawyers arrived at a central tabulation center in Pittsburgh.
One of those attorneys identified himself as "from the Saccade campaign," according to Wolosik. This attorney was quickly dismissed because state law only allows people affiliated with political parties to watch votes being counted—members of candidates' campaigns are not allowed.
Another Republican lawyer showed up at the central tabulation center purporting to have authorization from the state GOP—but was initially held back because his authorization form didn't have a signature, according to Wolosik.
The second attorney later obtained the needed signature via email and was then sworn in by Wolosik.
For its part, the Allegheny County Board of Elections doesn't anticipate much controversy. The county only reported two isolated issues with their voting machines: (1) one machine had low power; (2) another had a blank screen.
Democrats dismissed the accusations. Rob Cohen, the Vice President of the Massachusetts Young Democrats seized on the news to mockingly opine, "The 'irregularity' being that more people voted for the Democrat."
The "irregularity" being that more people voted for the Democrat https://t.co/5U2epJHqSb

— Rob Cohen (@Rob_Coh) March 14, 2018
Law&Crime reached out to the Pennsylvania GOP to clarify what, if any, steps the party would take to contest the election. An official there said they had no comment.
Law&Crime also left a voicemail with the Saccone campaign, but this phone call was not returned by the time of publication.
Update: the National Republican Campaign Committee released the following statement late this afternoon:
Earlier today we sent 4 letters (one to each county) demanding they impound all ballots and machines used in the election. We gave them all until 2pm to comply with our request. They did not. Now the campaign is filing suit in the Court of Common Pleas in each county to ensure that these ballots/machines are impounded to prevent them from being altered in any way in preparation for a likely recount. Impounding these is our right. Also, the NRCC is unveiling a digital voter outreach program where voters in the 4 counties can tell their stories if they were turned away from voting, witness any irregularities, or improprieties. We also are working to ensure that anyone who cast a provisional ballot follows through and sees that those ballots are counted.
[image via Drew Angerer/Getty Images]
Follow Colin Kalmbacher on Twitter: @colinkalmbacher
Editor's note: this story was amended after publication to include and reflect the NRCC's statement.
Have a tip we should know? [email protected]