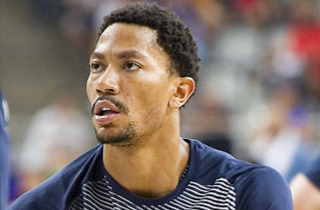 The trial in the rape lawsuit against NBA player Derrick Rose kicked off last week, and of the stories to come out of the first two days in court, one in particular caught the eye of sports fans. Specifically, the claim from Rose's lawyer that NBA players are told to take or flush condoms after sexual encounters to avoid paternity traps. While it came in response to the plaintiff's lawyer pointing to Rose taking the condom with him as the actions of a calculated rapist, the comment certainly raised a lot of eyebrows.
To get some input on whether this is true,  LawNewz spoke to lawyer Bobby Samini, who has served as counsel for former Los Angeles Clippers owner Donald Sterling.
"I've never heard this particularly in the context of an organization instructing to do this," explained Samini. "But have I heard this stuff before? All the time. Especially when you're out here [in Los Angeles], you hear about all sorts of crazy situations where someone will have sex with someone using a condom in a hotel room, and the woman will try to extract the semen and try to get herself pregnant by it. To me, it's kind of an urban myth, but we do hear about it here, and that instruction doesn't surprise me at all. Not at all."
Adding to the likelihood that it is, in fact, an urban myth of some kind is that Samini can't recall ever actually hearing of a case where it was proven a woman had impregnated herself that way. If you look online, you can find cases where it was brought up as a theory, but not necessarily cases where it was proven that a used condom was retrieved for a successful artificial insemination.
Mayar Zokaei, a sports agent, was able to give a bit more context to claim. "Whenever a player gets drafted to the NBA, or gets signed by a team, there's a first year rookie transition program that they have to go through," he explained. "That's a three day summit, usually held in New York. They put [the players] up in a hotel, they take them through everything. It's more of a life approach to preparation more than a basketball approach to it. They go over so many issues and topics there, and of paramount importance is your lifestyle, and in particular, women, and their role in it."
That isn't to say that this is something that the league or teams officially instruct players to do. "Maybe a coach, maybe a veteran [player], [maybe] it's not part of the structure of the NBA, that they don't want someone saying that," Zokaei added. It's more likely that during downtime like a lunch break, what he classifies as "taboo subjects" like the condom handling instructions and drug-related issues are discussed. "It's probably kind of off the record guidance given to athletes, like 'If you're going to do it anyway, here's a way to avoid getting in trouble,' whether it's about drugs or sexual activity."
The Chicago Bulls, the team that Rose spent the entirety of his NBA career with before trading him this past June, did not reply to a request for comment from LawNewz.
[Photo: Shutterstock]
Have a tip we should know? [email protected]