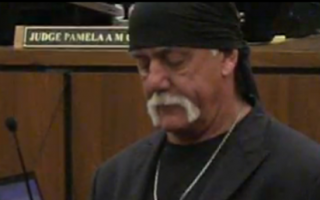 It's a classic story of he said/he said/she said. In a deposition shown to the court on Thursday, Hulk Hogan, real name Terry Bollea, revealed that Bubba "The Love Sponge" Clem told him who was responsible for the camera that made the sex tape of Hogan and Clem's wife. Clem apparently told him that his now ex-wife, Heather Cole, was behind the video of her having sex with the Hulkster. Hogan is suing Gawker for posting excerpts of the video, which he says was made without his knowledge.
Here's where it gets confusing. Hogan's story goes against what Cole said in her own deposition, which the court viewed on Wednesday. Cole claimed that Clem put her up to having sex with the former wrestling champion. He also said she was unaware at the time that they were being recorded on video.
If what Bubba told Hogan is the real story, it would certainly indicate that Cole knew about the tape going into the act. But at this point, who knows!
CNN's Tom Kludt has been posting updates from the courtroom.
Hogan says Bubba blamed the bedroom camera on Heather Cole #hulkvsgawk

— Tom Kludt (@TomKludt) March 17, 2016
Clem, who is not testifying in the trial, has admitted that he knew of the video and made a copy of it. He denied providing it to Gawker, but settled with Hogan for $5,000.
Closing arguments were expected to begin today, but have been pushed off for the court to review exhibits from Gawker. The jury has been sent home for the day. Stay with LawNewz.com for continuing coverage of the trial.
[Image via screengrab]
Have a tip we should know? [email protected]