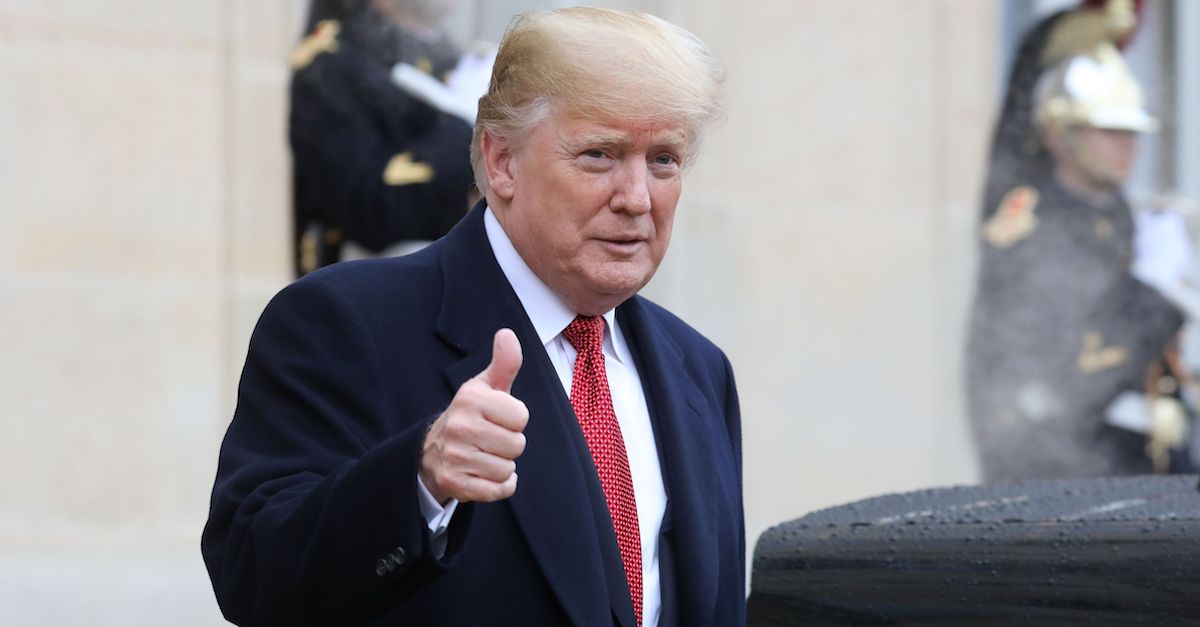 President Donald Trump has a … way with words.
The president, on Friday, introduced the late Supreme Court Justice Antonin Scalia's widow Maureen Scalia at the White House. She was there to receive the Presidential Medal of Freedom, the highest civilian honor, on behalf of her late husband.
First, Trump praised Scalia for being a principled justice who upheld the U.S. Constitution as intended by the Founding Fathers. Then, after recognizing all nine of the children the Scalias brought into this world, Trump said the following: "You were very busy. Wow."
Then he paused. "I always knew I liked him," Trump said.
Pres lavishes praise on the late Justice Antonin Scalia for a lifetime of upholding the Constitution as written. Mentions each of Scalia's nine children by name, and then says to Scalia's widow, Maureen, "you were very busy. Wow. Wow. I always knew I liked him." pic.twitter.com/RbUpinAzQ4

— Mark Knoller (@markknoller) November 16, 2018
Maybe Trump meant that their work/parenting schedule must have been insane, but that's not how anyone interpreted this.
Trump commends Antonin Scalia for having a lot of sex pic.twitter.com/YKkgw027QA

— Aaron Rupar (@atrupar) November 16, 2018
What??? RT @atrupar: Trump commends Antonin Scalia for having a lot of sex pic.twitter.com/UOTOtw9li9

— Touré (@Toure) November 16, 2018
BREAKING: At the Medal Of Freedom ceremony, Trump just commented on the busy sex life of the quite dead Antonin Scalia and his wife.

BREAKING: I just threw up in my mouth.

— Dana Goldberg (@DGComedy) November 16, 2018
Has any other President talked about sex at a Medal of Freedom ceremony before? Just curious.

— Maeve Reston (@MaeveReston) November 16, 2018
The President of the United States handing out the Medal of Freedom: "So. Huh. Cool. Anyway, who else here fucked a whole lot?"

— WhatCouldGoWrongHat (@Popehat) November 16, 2018
[Image via Ludovic Marin/AFP/Getty Images]
Have a tip we should know? [email protected]