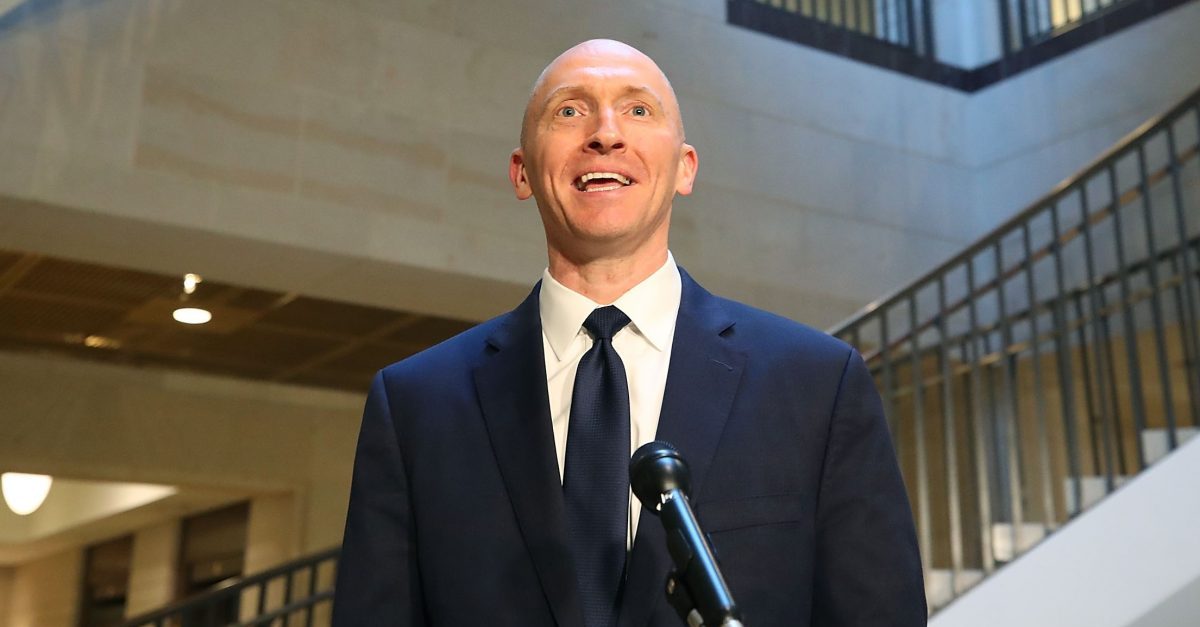 It's been nearly two months since a judge dismissed Carter Page's lawsuit against the Democratic National Committee, the law firm Perkins Coie, and two of the firm's attorneys over that blamed them for defamatory statements resulting from Christopher Steele's infamous Russia dossier. That hasn't stopped the former Trump campaign adviser from submitting additional court fiilngs. Finally, the defendants' lawyers responded, and they did not mince words.
Chief Judge Joe Heaton of the Western District of Oklahoma dismissed the case in late January because Page had not provided any evidence that the case belongs in Oklahoma. None of the defendants are based there, and their alleged actions were not alleged to have been purposefully directed there, he said. Despite this, Page—who is representing himself and is not an attorney—continued to file documents in the case, hoping that the court would reconsider. In doing so, he provided a "supplemental authority" of what he believed to be evidence that the case was connected to Oklahoma, but he really just described threats he received from someone in Oklahoma, supposedly as a result of the dossier, which was compiled as research done for them.
"You fucking half-wit, fucking piece of shit. You deserve everything you fucking get," one of the threats allegedly said, in reference to Page's alleged ties to Russia.
"[T]his and other domestic terror threats I have faced were unquestionably caused by the defamatory Dodgy Dossier by the Defendants in this case and their associates (i.e. Consultants they had hired, like Fusion GPS and Mr. Steele)," Page said in an email to Law&Crime at the time.
Finally, after weeks of filings from Page, the DNC's lawyers felt the need to weigh in.
"This Court's ruling was correct and final, and there is no reason to revisit it," they said in a Wednesday court filing, noting that Page waited until weeks after the dismissal to file a motion for the court to amend its judgment.
From there, it got pretty brutal, as they addressed the substance of Page's recent filings.
First, they said that Page didn't provide any sufficient reason for the request. "Plaintiff has not identified any error—let alone 'clear error'—in the Court's prior analysis, nor cited any new law or evidence undermining the Court's decision," they said. "Rather, Plaintiff regurgitates the same flawed assertions that this Court already rejected, and cites his continued stream of irrelevant 'supplemental authority.'"
The filing went on to say that the Rules of Civil Procedure that Page cited in his last filing don't even apply to this case, because the first one is only for situations where there has already been a trial, and the other is reserved for "extraordinary circumstances" and not for when a party is trying to "reargue an issue previously addressed by the court when the reargument merely advances new arguments or supporting facts which were available for presentation at the time of the original argument."
The DNC attorneys described Page's latest attempt as "nothing more than a last-ditch effort to re-litigate the same jurisdictional arguments this Court considered and rejected in its Order." They said that Page came "nowhere close" to identifying error by the court, and his claim that the judge didn't look at all of his evidence misses the point.
"To the extent Plaintiff is accusing the Court of not addressing each and every one of his scattershot arguments and submissions in its ruling … he is misguided," they said in a footnote.
Finally, the filing says that on top of all of this, the judge's dismissal was based on a jurisdictional issue, not the merits of the case, so "the extrinsic fact materials Plaintiff relies upon are irrelevant to his jurisdictional arguments in any event."
Law&Crime has reached out to Page for comment and will update this space upon receiving a response.
DNC Response to Carter Page… on Scribd
[Image via Mark Wilson/Getty Images]
Have a tip we should know? [email protected]