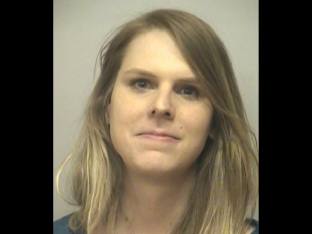 An anti-Trump "protester" has been arrested and charged for striking a police horse in the face on March 12 outside a Donald Trump rally in Kansas City, MO.
While it may sound like a scene straight out of the Mel Brooks classic comedy Blazing Saddles, what happened between April Foster, 29, and Dan the police horse is no laughing matter.  In fact, PETA Senior Vice President Daphna Nachminovitch has even released a statement on the matter:
All animals feel pain, stress and fear just like we do, and they deserve our respect and protection. Horses are highly sensitive prey animals, and this poor horse was without a doubt already under a tremendous amount of stress as a result of the chaos, the crowds, the deafening noise of the angry protesters, and more. PETA commends the person who called the tip line so that this woman's apparent cruelty to this horse does not go unpunished.
So, what in the world happened?
Well, according to the police, the mounted patrol was dispatched to an area outside the Midland Theater to help with crowd control after a group opposed to Trump began moving into the streets in an apparent effort to block traffic.
After refusing to obey repeated police commands to return to the sidewalk, police say Foster, 29, approached a mounted officer and his horse, Dan, and began screaming and yelling in the horse's face in an effort to spook the animal.  After those efforts failed, Foster reportedly became increasingly agitated.  Police say she then struck the horse in the face with in open hand, before she fled and disappeared into the larger crowd.
"When this tactic [screaming] did not work she attempted to push my horse with no success. I observed this to only make her more angry and violent and in a last attempt she struck my horse in the face with an open hand," the officer's police report said.
A Kansas City Star photographer witnessed the incident and captured a photo that appears to show Foster screaming at Dan the horse:
Steve Kraske: Protests like the one in Kansas City will dog Donald Trump for months #election2016 https://t.co/Y797Edj5S4

— The Kansas City Star (@KCStar) March 13, 2016
Police credit an anonymous call to the local TIPS hotline for providing them with the information needed to locate and arrest Foster on Friday.  She was charged with abuse of a police service animal and released after posting a $500 bond.  Foster is scheduled to appear in municipal court on May 4 at 9:00 a.m.
Local station WDAF- FOX4KC spoke with Foster off camera on Saturday night and she reportedly told the station that she would give her side to story in court.
WATCH Foster allegedly push the horse via KCTV5
WATCH more via FOX4KC
[image via Kansas City, Missouri Police Dept.]
Have a tip we should know? [email protected]