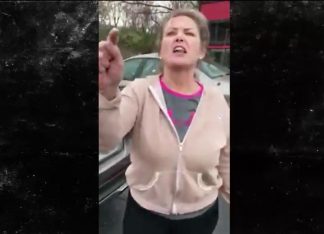 The tension building up among some this election year seemingly boiled over on Tuesday and things got incredibly ugly at a polling location in Michigan.
TMZ reports a fight broke out in Ypsilanti, MI between a white woman and an African American man and woman.
Video captured at the scene appears to show a man and a woman engaged in a brief struggle, some racial slurs hurled about and a woman appears to have even tried to spit on someone.
LANGUAGE WARNING: 
Police reportedly responded to the scene but no one was ultimately arrested.
[image via screengrab]
Have a tip we should know? [email protected]