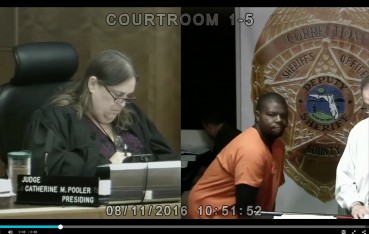 A Miami-Dade County auto-theft suspect apparently attempted to woo a judge by showing off his dance moves during a bond hearing on Thursday, but Her Honor was not amused.
WPLG Local 10 in Miami reports Calvin Griffith, 30, was making his initial appearance by video conference at a bond hearing when he suddenly busted a move, briefly twerking for all in the courtroom to see.
WATCH:
As you can see in the video, Judge Catherine Pooler does not appear the least bit amused by Griffith's antics, giving the inmate an icy glare.
According to the report, Griffith was in court after prosecutors say he was captured on surveillance cameras walking into Miami Edison Senior High School while it was closed for the summer.  He allegedly snatched a set of car keys out of the front office, returned to the parking lot and drove away in a vehicle belonging to a school employee.
On Wednesday, police reportedly discovered the vehicle outside North Miami Senior High School where they also found Griffith, with the victim's car keys in his pocket.
Judge Pooler set Griffith's bail at $18,500, perhaps further evidence that she was not amused with his dance routine.
Have a tip we should know? [email protected]