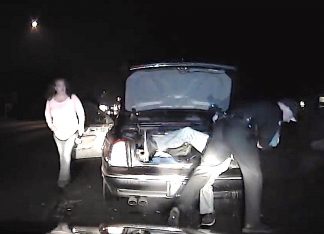 A police officer in Lewiston, Idaho will surely be counting his blessings this Thanksgiving Holiday season after a Monday night traffic stop.
According to police, officer Tom Woods conducted a traffic stop after noticing the vehicle did not have a license plate and had just left the home where a wanted fugitive was suspected of visiting.
As Officer Woods approached the driver of the vehicle, he reportedly heard a strange noise coming from the trunk of the car. What happened next was captured on police dashcam video, obtained by KLEW-TV and released by the local affiliate late Wednesday night.
WATCH:
Police say Officer Woods asked the driver, identified as Angelia Barnett-Harrell, if someone was riding in the trunk. Reportedly, he even specifically asked if it was her son, James Harrell, the fugitive that police suspected was visiting the residence.
Moments later, the trunk lid indeed popped open and the fugitive tried to jump out brandishing what appeared to be a firearm, police say. Barnett-Harrell, the driver, allegedly screamed it was just a toy gun, but Officer Woods took no chances and called for backup. He also acted fast, slamming the trunk on the suspect to slow down his exit.
Harrell still managed to escape the trunk and a struggle allegedly ensued, with Officer Woods managing to get the apparent firearm away from Harrell as backup officers arrived to arrest the fugitive.
After further investigation, the gun Harrell allegedly brandished was determined to be replica pistol.
The fugitive, Harrell, was arrested on outstanding warrants and now faces additional charges of resisting arrest, obstructing, and battery of police officer.  It is possible that additional charges will be filed. Harrell was booked in the Nez Perce County Jail.
Harrell's mother was also arrested for possession of methamphetamine and charges related to harboring a fugitive.
[image via screebgrab]
Have a tip we should know? [email protected]