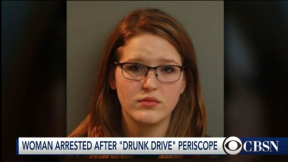 A smirking, mumbling, bumbling Florida woman who broadcasted herself drunk driving on the live streaming app, Periscope, has skirted jail time after striking a plea deal with local authorities. LawNewz's Founder Dan Abrams recently called Ethan Couch the "Dumbest Criminal in America." It seems the Periscope Queen is giving the "affluenza" teen a run for his money.
Whitney Beall, a 23-year-old Lakeland woman, was arrested last October after broadcasting a night of bar-hopping, and her subsequent drive home, on the Twitter-owned streaming app. While Periscope lets you explore the world through the eyes of somebody else, it's doubtful it was intended to include the glassy-eyes of a drunk driver.
Beall's broadcast included an enlightened commentary and astute observations like, "I am drunk on South Florida Avenue because I'm a drunk person," and "I am super drunk in the USA and the light is red."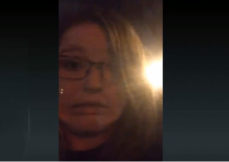 As Periscope viewers tuned in, the hilarity of Beall's inebriation quickly turned into horror, and fear, that tragedy might occur in real time. However, two different Periscope viewers took action, reporting Beall to 911 and alerting the police to how they could use the app to find Beall before she hurt herself or others.
When the police located Beall, she was completely out of control. Lakeland Police Department Sgt. Gary Gross commented, "[w]ithin minutes we found her driving, flat front tire, she hit the curb again and it was just obvious from that she was intoxicated."
Beall smartly took a plea deal and was sentenced to one-year probation, a six-moth license suspension, a bar-ban, 150 hours of community service and alcohol evaluation and treatment.
Check out the inane video below.
Tell us who you think is dumber: the affluenza teen, or the Periscope Queen?
[h/t KLFY]
[Screengrab via CBSNews]
Have a tip we should know? [email protected]