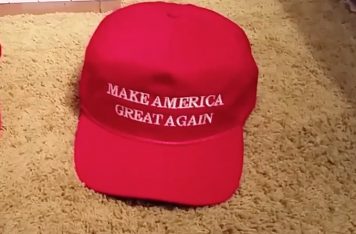 A staffer for the Donald Trump campaign was allegedly assaulted and spat on in the parking lot of Towson University on Sunday for wearing a Make America Great Again hat.
Campus Reform obtained a police report filed by Gary Collins, the Baltimore City co-chair for the Maryland Trump campaign, in which he alleges a woman called him "a racist piece of shit" because he was wearing a red "Make America Great Again" hat and had a Trump bumpersticker on his vehicle.  Collins told the police he tried to walk away from the woman, but she blocked his path and spit on him.  He further alleged the woman then called him a "stupid, short little white boy that is nothing more than a pussy."
Collins told the police he then took out his phone to record the confrontation, but that only seemed to make the woman more angry and she then slapped him in the face.  The woman allegedly then began to struggle with Collins in an effort to rip his phone out of his hands.
"Throughout the physical altercation she grabbed, punched and physically challenged Mr. Collins," the police report states. "The female was successful in assaulting Mr. Collins and taking the phone away from him."
However, one video of the incident was recovered, according to the online news outlet.
WATCH:
The video appears to show the woman described in the police report attempting strike the man behind the camera.
After taking the possession the phone, the police report states the woman then began to delete additional videos of the incident. It is unclear how Collins managed to retrieve his phone.
The police report shows the responding officer conducted an investigation into the Collin's complaint and identified the alleged attacker as Aeesha Deen Kamar, a commuter student at Towson University.
Police say they conducted an interview with Kamar and although she denied spitting on Collins, she otherwise admitted to "hitting [Collins'] hat which was on his head and to taking his phone from him and erasing a video from his phone."
A Towson University declined comment on the incident and reportedly told Campus Reform "this incident is now a matter for the Maryland judicial system to resolve."
Collins subsequently told the news outlet that Kamar was arrested in connection with the incident, but it is unclear if has been formally charged at this time.
[image via screengrab]
Have a tip we should know? [email protected]