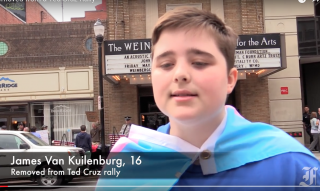 A 16-year-old transgender teen claims he and his mother were asked to leave a Ted Cruz rally in Maryland because he is trans.
In an interview with the Frederick News Post, James Van Kuilenburg told the newspaper that he attended the rally on behalf of LGBT youth "that are hurt by [Ted Cruz's] propaganda and rhetoric."
Kuilenburg said he thinks it is disgusting that people can hate him without even knowing him and he "wanted the people [at the rally] to know that it is disgusting."  He also showed off a large sign that he said he left outside rally that reads, "Human Rights Are not Up For Debate.
WATCH:
Kuilenburg said he was sitting inside the event when an individual approached him to ask him to leave.
"This guy comes up behind us and touches my shoulder and [says] … the event staff is asking you to leave."
When he said he demanded to know why he was asked to leave, Kuilenburg said he was told it was because he was involved in an earlier incident outside the event hall.
Kuilenburg denied being involved in any incident outside the event.  However, he said he decided it would be better to leave the event anyway and go outside to tell everyone about what just happened to him.
The Fredrick News Post did not include a comment from Cruz campaign about this alleged incident.
[image via screengrab]
Have a tip we should know? [email protected]