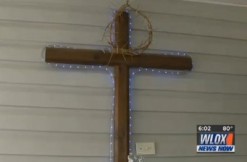 We're not sure how to process this story. A Mississippi couple told WLOX that a naked man broke into their home on Saturday morning, and then things got strange.
"I woke up, and here's this kid," Fred Kately, a Navy veteran, said. "He's acting like he's an exotic dancer on top of my wife."
Kately then got his gun, and wanted to do what a lot of people might in that situation. "Give him a head shot, and it'll be all through," he told WLOX. But his wife's pleas stopped him. "When she asked me not to shoot that kid, already I had put in my mind, hey, this is too easy. He's unarmed. He's naked. He had no weapons and I'm the one who was in control."
His wife Rachel Kately told WLOX she tried to fight the man before he threw her to the ground. The couple's nine-year-old grandson walked in during the attack. The kid reportedly dialed 911, and gave the phone to granddad.
"I was telling the lady at 911: 'Y'all please hurry and send somebody here before I kill this kid," Kately said.
Rachel Kately said she managed to pin down her her assailant. She said she asked the man, 32-year-old Kenda Casey, to pray with her. And then the couple learned that they already knew this guy through family.
WLOX.com – The News for South Mississippi
"When I saw the need to not shoot him, to not kill him, to let the police handle this stuff, that's when I started getting some peace and decided, hey what's the next right thing to do? I'm working on forgiving him, and for him to forgive me for almost taking his life," Kately said. He reported his wife suffered a few bruises and was emotionally distraught. He also worried about his grandson.
Casey is being held on $300,000 bond. Authorities told WLOX that he has a long criminal history. He is reportedly on probation for auto theft, and has been arrested seven times in connection to drug charges, simple robbery, eluding police, and disturbing the peace.
[screengrab via WLOX]
–
Follow Alberto Luperon on Twitter (@Alberto Luperon)
Have a tip we should know? [email protected]