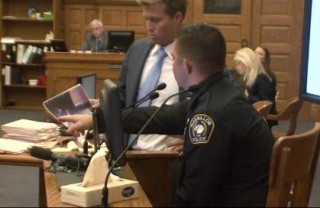 "Shell casing" was the phrase of the day in the Stark County Court of Common Pleas on Wednesday, as testimony continued in Colleen McKernan's murder trial. McKernan is charged for killing her husband, Rob McKernan, on New Year's Eve 2014. She claims it was self-defense.
In a case where the identity of the perpetrator is not in dispute, attorneys worked the details of the crime scene to try paint a picture of what happened on the night in question. Officials including a patrol officer, an investigator, and a forensic pathologist testified regarding what they saw after the shooting took place.
One of the common themes was the positioning of shell casings on the floor of the McKernans' home. Several were found in one location in a hallway, while others were in other spots, including near the body. While the varied locations of the shell casings may indicate that a weapon was fired from different spots, questions from the defense showed that they could have moved when Colleen supposedly performed CPR on Rob after shooting him.
Another item that came up was a straw that was found next to the body. Defense attorney Max Hiltner had some initial difficulty showing why it was significant, due to objections to his questions. Eventually, he was permitted to ask Officer Shaun Dadisman if — in his professional experience — straws that were cut like the one at the scene have been related to drug use. Officer Dadisman said yes. This information will likely be used by the defense to show that Rob McKernan may have been on drugs the night of the shooting.
The rest of the day's testimony focused on firearms and the type of ammunition used, as well as the nature of Rob McKernan's wounds.
Court will resume at approximately 9:15am on Thursday. LawNewz.com will provide continuing coverage and live streaming video of the trial. For some video analysis of the case, head on over to the LawNewz Facebook page.
Have a tip we should know? [email protected]