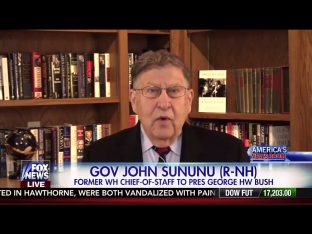 Former New Hampshire Governor John Sununu appeared on Fox News on Monday morning to discuss the latest news about the ongoing race to secure the needed 1,237 delegates to win the Republican Party presidential nomination.
America's Newsroom co-host host Bill Hemmer said they had crunched the numbers and determined that after California primary in June, Donald Trump will likely still be approximately 70 delegates short of the 1,237 needed to secure the nomination.  Hemmer then mentioned that there will be approximately 150 unbound delegates up for grabs when it comes times to cast the first ballot at the Republican National Convention in Cleveland, and if Trump manages to win over just half of those unbound delegates, then he will get to 1,237 and win the nomination.
Well, let's just say Gov. Sununu is not so sure that Trump will be able to win over enough of the unbound delegates to win the nomination.
WATCH:
Please enable Javascript to watch this video
"Yeah, but most of those unbound delegates can't stand him," Sununu said.
Hemmer then reiterated the point about the importance of the first ballot, to which Sununu actually agreed, but not without taking another shot at Trump in the process.
"[Trump] has to try and win on the first ballot because a lot of his delegates [those bound to him] also can't stand him and they will abandon him on the second," Sununu said with a smirk.
[image via screengrab]
Have a tip we should know? [email protected]