Podcast: Play in new window | Download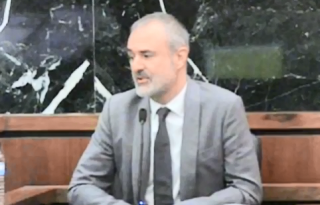 When Hulk Hogan's attorney Ken Turkel cross-examined Gawker founder Nick Denton on Tuesday, it started off as a heated battle between two worthy opponents. Then it got weird.
After grilling Denton over his journalistic practices, Turkel then turned to Hogan's sex tape and the commentary that former Gawker editor-in-chief A.J. Daulerio wrote to accompany it. He asked Denton to read aloud Daulerio's detailed description, in a "humanizing tone." Denton obliged, in what instantly became one of the most bizarre moments of a trial that has already been sheer insanity. His soft, dulcet British voice describing "squealing" and "moaning" sounded like an audio version of a smutty romance novel.
That's about as much detail as we'll put in print, but you can watch the extremely NSFW (Not Safe For Work) testimony in the clip below:
Video courtesy of Wild About Trial/Crime Watch Daily
[image via screengrab]
Have a tip we should know? [email protected]