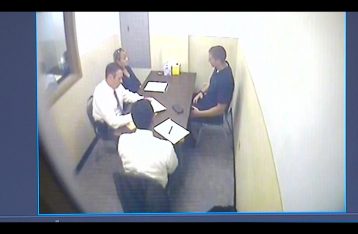 Jurors watch a videotaped police interview on Thursday morning at the trial of former University of Cincinnati cop Ray Tensing. Tensing is charged in connection with the shooting death of motorist Sam DuBose during a traffic stop near the University of Cincinnati campus in July 2015.
Earlier in the week, prosecutors told jurors during open statements they charged Tensing with murder because he admitted to intentionally shooting DuBose during the interview.  Tensing's defense lawyers do not dispute that the shooting was intentional, but they say Tensing fired in self defense because he feared the vehicle would run him over.
WATCH:
Tensing further explained his state of mind during the shooting in the interview, telling investigators his "intention was to stop the threat" because he believed DeBose "was actively trying to kill" him.  Tensing said DuBose tried to drive away from the stop and he was being dragged alongside DuBose's vehicle when he fired the shot.
Later on Thursday, the prosecution is expect to call an expert witness who will break down body cam video of the incident frame by frame.  You can watch that testimony live on LawNewz.com.
WATCH THE TRIAL LIVE: [image via screengrab]
Have a tip we should know? [email protected]