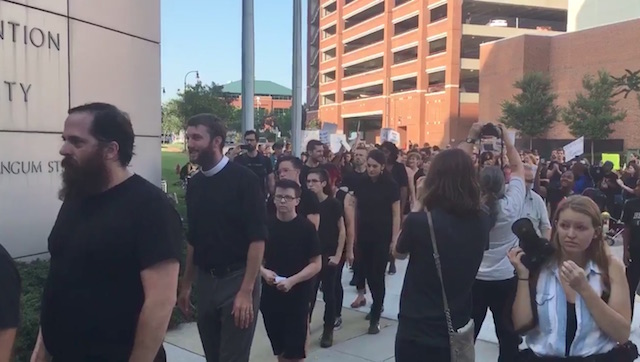 Following the public toppling of a Confederate statue in Durham, North Carolina earlier this week, local police began a series of raids and arrests targeting anti-racists involved with the removal.
One of those arrested was Takiyah Thompson, a 22-year-old woman slapped with a litany of charge–including two felony counts of participating in a riot and inciting others to riot. Lauded as a hero by many activists and admirers across the country, Thompson's targeting by law enforcement is not sitting well with those who cheered on and helped hasten the–statue's undoing.
So, right now, anti-racists are staging a two-pronged action against the Durham County Sheriff's Office. Nationally, there's a call for people to clog up the phone lines and demand that Thompson's charges be dropped.
Locally, however, the action is a bit more inspired–and arguably even inspiring. Scores of activists this morning marched into the Durham County Sheriff's Office demanding to be arrested.
Walking in to sheriffs office to collectively turn ourselves to say: targeting racial justice organizers? arrest me too! pic.twitter.com/YtTTDEQv20

— ben carroll (@bncrrll) August 17, 2017
"Their voices are a part of taking that [statue] down. It wasn't about the actions of a few individuals. It's about what the community of Durham wants," one of the organizers said.
And members of the community (and beyond) seem to have responded favorably.
Folks lining up to be arrested at durham jail supported by hundreds of community members pic.twitter.com/ZYLYvVeH1c

— mark buttons (@_mikeburrows_) August 17, 2017
#Durham this morning: 200 people turn themselves in for destroying the statue. https://t.co/LizeLKyg2d

— Yaba Blay (@fiyawata) August 17, 2017
Wow! Line of residents in Durham, NC attempting to turn themselves in for 'crime' of removing Confederate Monuments

(photo Katina Parker) pic.twitter.com/DjdNS8S6rc

— Auburn (@AuburnSeminary) August 17, 2017
So far, Durham police appear to be at loggerheads with their community. Durham County Sheriff Mike Andrews referred to the statue's fall as "civil disobedience that is no longer civil" and vowed to use every method at his disposal to go after the activists responsible. But, after today's rush of protesters demanding to be arrested, he's refusing to arrest any more.
The activists have said they will continue to work until all Confederate statues in the area have been removed.
[image via screengrab; video courtesy Ben Carroll/Twitter]
Follow Colin Kalmbacher on Twitter: @colinkalmbacher
Have a tip we should know? [email protected]